The New Lancaster pub landlords 'excited' to finally open doors for first time
One of Scarborough's newest pubs has finally opened its doors to revellers for the first time due the coronavirus pandemic.
Friday, 23rd April 2021, 11:07 am
Updated
Friday, 23rd April 2021, 11:08 am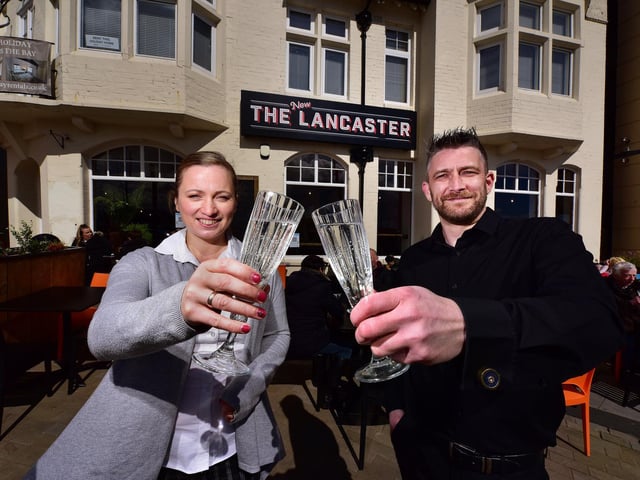 Managers Lelde Caune and Ray Clarkson make a toast to the big opening day.
The New Lancaster on Sandside welcomed guests to its new outdoor seating area when Covid-19 restrictions eased on April 12 to allow non-essential retail and outdoor dining to reopen.
The pub, which was previously Mutiny Bar and before that The Lancaster, has undergone a complete refurbishment since being bought by new landlords Stacey Stringer and James Durham.
"I'm really excited about opening to be honest," said Stacey. "It's quite hyped, the opening of The New Lancaster, which I'm quite pleased about."
The New Lancaster's refurbished interior.
"It's going to be really nice to get people round that end of the beach because they don't tend to go past the Golden Ball as such and that little corner where we are; there are some lovely shops and lovely establishments down there."
The new interior has completely changed; a new bar has been installed, as has new seating and palm trees to give the space a "modern nautical feel". Artwork from local artists also features on the walls with paintings and photographs.
"I feel like I've been there every day of my life since January, because there was no real rush. It has had a massive clean-up job," Stacey said.
At the bar... what will you be ordering?
The pub will serve high-end wines, premium beers and gin.
Food will not be available until May 17, when four sandwiches for lunchtimes and four sharing platters and nibbles will become available. "Ultimately we want to push it towards drinkers and not diners," Stacey said.
No bookings will be taken for the new outside seating area, which can seat 40, as guests are encouraged to show up for a table at their leisure.
The New Lancaster is open between 10am and 10pm Monday to Sunday.
The New Lancaster is the latest venture for Stacey Stringer and James Durham of J&S Pub Company (Scalby) Ltd who also own The Nag's Head in Scalby, which reopened in February 2020 after the previous owner left; The Commercial on Falsgrave Road; and The Golden Lion in Whitby.
"I'm so happy with the outcome, it looks fantastic," said Stacey. "Just a very modern-nautical feel.
"We're just excited to get this industry going again. To get people socialising again."