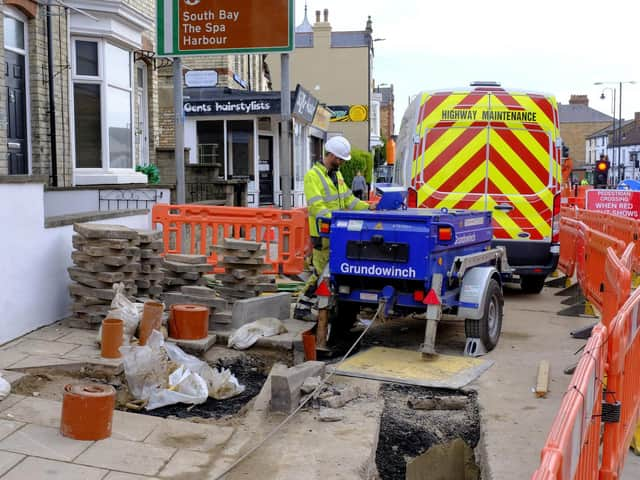 Work moves on
The programme, which started in August and runs until the end of next year, focuses on replacing more than four miles of high voltage underground electricity cables dating back to the 1960s with a more modern and sustainable alternative.
This new cabling is capable of meeting any future increase in the demand for power as the town develops, the population grows and more people swap their cars for electric vehicles.
The work, which is being carried out by O'Connor Utilities and Murphy Utilities on Northern Powergrid's behalf, involves excavating in the roadway in a number of locations to the south side of the town centre.
The route includes sections of Salisbury Street, Seamer Road, Oak Road, Falsgrave Road, Mount Park Road, Cambridge Place, Valley Road, Londesborough Road, All Saints Road, Westover Road, Belgrave Terrace, Westwood, Westbourne Grove, Princess Royal Terrace, Princess Royal Park, Fulford Road and Filey Road.
Work has been completed to date in the following locations:
Salisbury Street (minor additional work to be completed in the near future)
Falsgrave Road from the junction of Mount Park to the traffic lights at the junction of Seamer Road
Work to be completed by early November 2020 as follows:
Seamer Road from Spring Bank to the traffic lights at the junction of Valley Road
Seamer Road from the traffic lights at the junction of Falsgrave Road to the junction of Springhill Road
Additional work to be carried out in November and December as follows:
w/c Monday November 2 until the end of November - Valley Road from the traffic lights at the junction of Seamer Road working towards the junction with Westbourne Grove. The company will return in early January 2021 to complete this section.
w/c Monday November 23 or a period of up to six weeks – Princess Royal Terrace and Princess Royal Park. "ork will stop for the festive period on Wednesday December 23 and recommence in early January.
All dates are subject to change.
There are no plans to turn off anyone's power and it is unlikely that access to premises will be required. Pedestrian access will be maintained at all times and Northern Powergrid will ensure that any businesses affected can make arrangements to continue to receive their deliveries.
Northern Powergrid is committed to keeping local people informed and will be writing to anyone directly impacted immediately before work starts along each section of the route.
A spokeswoman for Northern Powergrid said: "As our important work to improve the electricity network that powers Scarborough continues, we're continuing to look at ways of minimising the impact on local people such as ensuring that we're not working on any main roads after the end of November to reduce disruption to Christmas shoppers."
"We appreciate peoples' patience while we invest in their community and we'll continue to provide updates through our dedicated webpage northernpowergrid.com/scarborough."
People can also find out more about Northern Powergrid's investment work by contacting the company's customer care team on 0800 011 3332. The network operator is also available 24/7 on Facebook and Twitter.