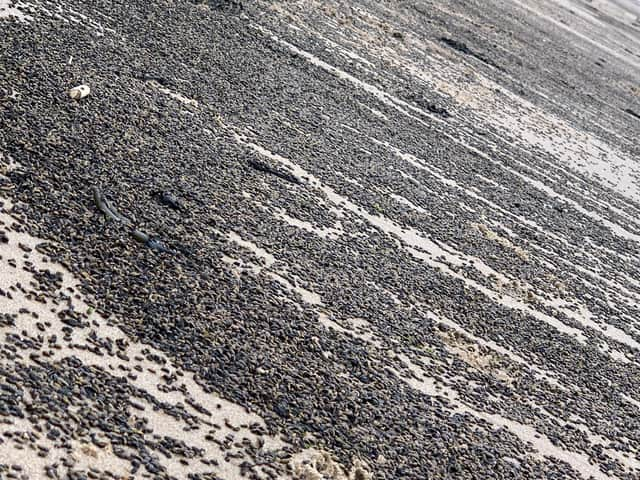 The beetles on the sand. Picture: Jack Dickens
Pictures show the insects at Cayton Bay and South Bay and they were also spotted on North Bay, according to a Facebook user.
Reports of the strange incident first occurred yesterday (Monday April 13) but the insects are still there today.
Experts have now confirmed the insects are Heather Beetles and explained how they most likely came to be there.
A close up of the beetles. Picture: Jack Dickens.
Dan Lombard, of Wold Ecology, explained they most likely came from the North York Moors, where there is plenty of heather growing for them to feed on.
He said: "There is a big population on the North York Moors.
"The population has exploded in Spring as they have come out of hibernation and at the beginning of last week we had some warm weather followed straight away by north easterly winds.
"It went from really warm which would encourage them to disperse to really cold."
The beetles covering the sand at Cayton Bay. Picture from Jack Dickens
Dan said the bugs would have been hit by the cold front coming from Scandinavia and died, falling into the sea.
They were then likely washed up along our coastline.
Last August it was reported that the moors could lose their distinctive purple hue due to the beetles thriving on the plants.
They also benefit from the burning of heather during grouse season as they feed on the fresh shoots.