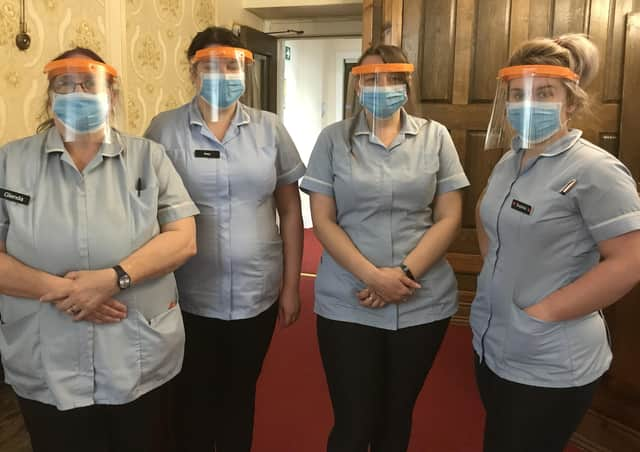 Some of The Hall's care workers wear Tom Croft's visors.
An enterprising teenager has put his passion for technology to good use and has begun 3D printing visors for his local care home in Thornton-le-Dale.
When Tom Croft, 16, received his 3D printer at Christmas, he never imagined that just a few months later, he would be using it to create essential PPE for care workers.
He is supplying 30 fully constructed face visors for staff at The Hall, his local care home, complete with sterilisation instructions.
Tom Croft with some of the face masks.
Tom is self-funding the project and is putting the hours towards the volunteer section of his Duke of Edinburgh bronze award. He said: "I'm really pleased to be able to help The Hall. It's really close to where I live and my girlfriend's mum works there, so I know first hand what a good job the team are doing."
Diane Hagan, manager at The Hall, said: "Thanks to the hard work and dedication of our staff we have had no cases of COVID-19 at The Hall but it's reassuring to know that we are extra well prepared thanks to Tom and his visors. In any event we wear visors as a precaution and so these will be very gratefully received for sure!"