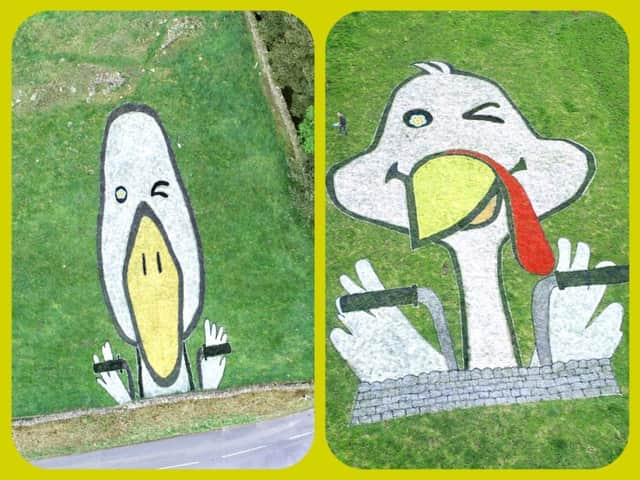 Last year's winning design in the Tour de Yorkshire land art competition.
The Land Art competition recognises the efforts of those people who create the giant artworks which line the route each year.
These stunning pieces are now a key feature of the race and include a whole host of wacky and wonderful creations.
Last year's winning design featured a winking goose and turkey riding 70s Chopper bikes which was painted onto a field near the Côte de Goose Eye climb!
The Best Dressed competition meanwhile, honours the communities and individuals that go the extra mile to celebrate the race.
The competition is split into four categories:
* Best Dressed Host Location
The Best Dressed awards will be given to locations with the most spectacular and eye-catching decorations. The Spirit of Le Tour award will recognise an individual, community or business which has gone above and beyond to fully embrace the essence of the Tour de Yorkshire in a unique way.
Entries will be taken until midnight on Sunday April 26.
After the Tour has concluded, a shortlist of the best entries in each category will be drawn up and put to a public vote. The winners will then be invited to the Welcome to Yorkshire headquarters in Leeds to receive some special commemorative prizes.
Welcome to Yorkshire Chief Executive James Mason said: "This is the first time I've worked on a Tour de Yorkshire, but I've watched it with interest ever since it started and have always been blown away by the lengths people go to, to support the race.
"Every year whole towns and villages are draped in yellow and blue flags, and those giant land art pieces are always spectacular."
Andrew Wood, who worked on the winning Land Art submission in 2019, said: "It was amazing to know so many people had voted for us.
"The moment the TV helicopter zoomed in on our design during the race was an experience I'll never forget.
"To know 28 million people around the world were seeing what we'd created was a fantastic feeling and it made all our efforts worthwhile."
A new-and-improved online entry process has been developed for both competitions this year, making it easy to get involved.
Click here for full details of how to enter.
Tour de Yorkshire is on between April 30 and May 3 this year.