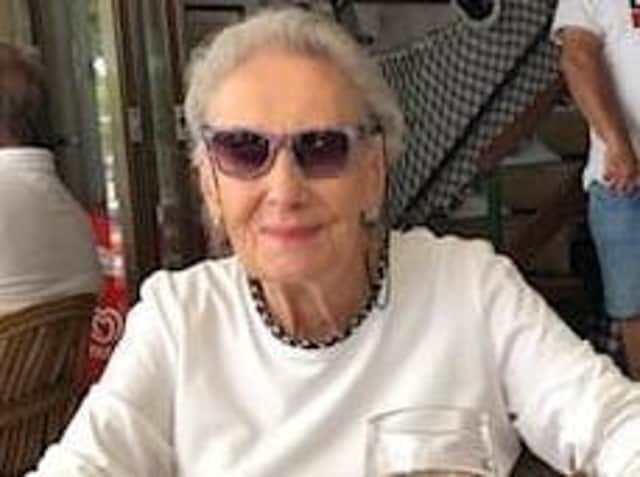 Margaret Proudfoot, who was affectionately known as Peggy or Mrs P
Mrs Proudfoot, who was a prominent fashion illustrator for many years, died on November 7, at the age of 97.
She and her husband Wilf, who headed the Proudfoot company, were married for 63 years until his death in 2013.
Her family have paid tribute to her for her many artistic talents, which saw her design company logos, including the distinctive Proudfoot sign, hat boxes for leading London stores, as well as window designing and graphic design.
Born in Pontefract, she moved with her family to Scarborough when she was a child, initially living in Merchants Row and later in Westbourne Park.
She attended Scarborough Girls' High School and the Technical College School of Art in Valley Road, where she developed her artistic skills and where she met her lifelong friend, the late Mrs Peggy Pilgrim.
During the war, Mrs Proudfoot, who was affectionately known as Peggy and later Mrs P, served as a sergeant in the army and later worked with London fashion houses, where her skills in creating fashion drawings saw her work appearing in advertisements in such prestigious publications as the New York Times, Vogue, The Sunday Times, Daily Telegraph and a number of top fashion magazines.
She also worked for such famous stores as Harrods, Jenner, Binns, and Marshall and Snelgrove.
Her work for the Rowntrees department stores in Scarborough and York became legendary and she designed the Rowntrees company logo.
Mrs Proudfoot expanded her business when she established Fashion Illustrator Ltd.
Wilf Proudfoot was MP for Cleveland and Whitby and later Brighouse and Spenborough in the 1960s and 1970s. He headed the family supermarket company which she helped him start at Seamer in 1948 and later built stores in Newby, Eastfield, Whitby, Withernsea and Barton Upon Humber, making it one of the largest independent family enterprises of its kind.
Mrs Proudfoot, who remained a director of the company until 2017, took a keen interest in the company's expansion.
Among her many interests was visiting the family's home in Spain and she became an accomplished Spanish speaker and took a keen interest in the country's culture.
She also had a great affection for cats and dogs which were an important part of her family life.
The family said in a statement: "Our mother was a wonderful influence on all the family throughout our lives, supporting our father in his political career and taking a keen interest in the family business, whilst pursuing her own interests in art, antiques and reading.
"She was a very hard worker and someone with a lovely sense of humour, a love for all her children and grandchildren, who will miss her greatly.
"She was still painting and drawing up to a few months before she died.
The funeral was held at St Mark's Church, Newby, and the cortège made a tribute tour to the Proudfoot store at Newby and along the seafront, her favourite ride.
She leaves three children, Mark, Lyn and Ian, and five grandchildren, Marcus, Oliver, Luke, Victoria and James Ian.