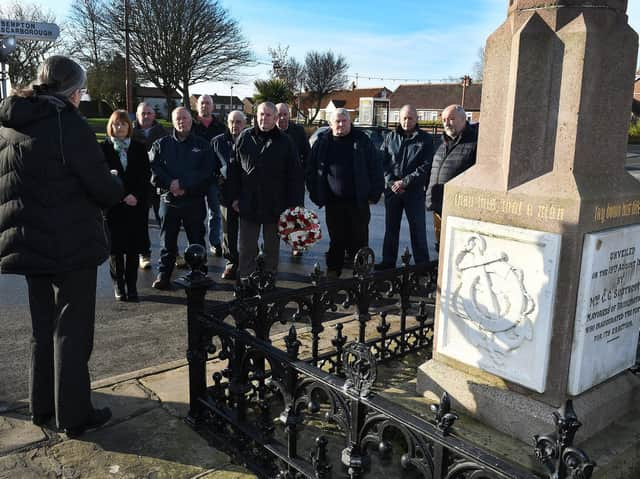 The service conducted by the Rev Jane Penn. Picture: JPI Media/ Paul Atkinson
Wreaths were laid in the service yesterday (February 5) during the tribute to the six men who lost their lives when a sudden storm blew up off Flamborough Head as a fleet of 40 or 50 cobles were busy fishing.
Three men aboard the coble Gleaner - John Cross and his sons Robert and Richard - were thrown into the raging water within sight of the shore, but the lifeboat was unable to get to them, such was the ferocity of the sea.
Risking their own lives the crew of the coble Two Brothers – Melchior Chadwick, Tom Leng Major and George Gibb – managed to pluck the three men from the water, but then they were swamped by another wave.
Laying of wreaths at the service conducted by the Rev Jane Penn. Wreaths laid by Paul Arro and Vic Leppington. Picture: JPI Media/ Paul Atkinson
The men's deaths hit the whole village and 5,000 people attended the funerals of four of the men three days later, on February 8, 1909.
The body of Melchior Chadwick was found later, but that of Robert Cross was never recovered.
The anniversary service included a performance by folk singer David Swann of a song 'Two Brothers', which he wrote about the 1909 tragedy.
Captain David Freeman, Lifeboat Operations Manager for Flamborough RNLI, said: "There are still direct descendents from some of the victims in the village. This service was for them and for the rest of the community."