Whitby and Malton area backing for 20s Plenty speed campaign ahead of 'critical' North Yorkshire Council meeting
Whitby Community Network is backing a major survey being launched by 20s Plenty for North Yorkshire – a campaign to reduce speed limits to 20mph in towns and villages.
Watch more of our videos on Shots! 
and live on Freeview channel 276
Visit Shots! now
All residents and road users from pedestrians to cyclists, motorists to motorcyclists through to people using mobility scooters are being urged to give their views ahead of a critical meeting of North Yorkshire Council on June 20, when North Yorkshire's 20mph speed policy review will be put to the authority's executive.
Andy Jefferson of Whitby Community Network is reaching out to communities in the area around wide area 20mph limits: Active Travel and Road Safety in the Esk Valley – Whitby Community Network.
He said: "We are one of a number of groups, including Harrogate, Malton, Helmsley, and Stokesley, that have or are doing their own surveys or petitions.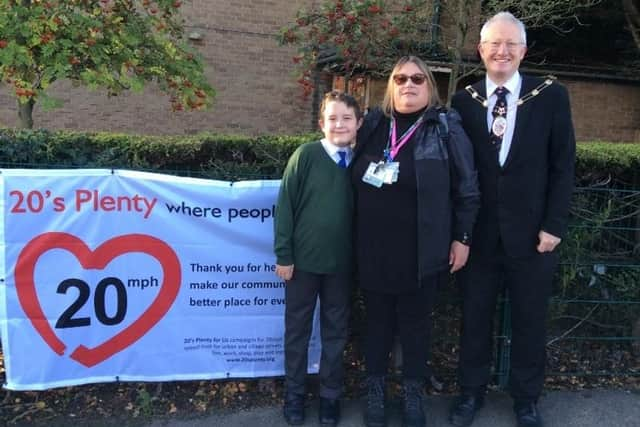 "We have launched petitions in six villages along the Esk Valley that do not currently have a 20mph speed limit, as well as asking GPs and schools to support the campaign for 20mph and promotion of active travel, and we are planning a cycle ride to draw attention to it.
"Here in Whitby, we look on in horror at the proposed closure of one of our secondary schools (a proposal that is still without a transport assessment of the impact), that would force 400 children to walk along a 40mph road and cross the busiest road in the town - without an adequate crossing – in order to get to the remaining school.
"It is high time the County Highway Authority listened to the many local people here and in other communities who demand better and we encourage as many people and consultees as possible to read this report and contribute to it, as well as write to their local county councillor."
Click on https://www.whitbycommunitynetwork.org/20s-plenty-for-north-yorkshire-speed-review/ to take part in the survey.
Mandy Carpenter, Active Travel lead at Malton Primary school and town councillor, said: "Town and parish councils representing 144 parishes have already responded to the 20's Plenty campaign with support, including Malton and Whitby town councils.
"We see the 20's Plenty county-wide consultation as having a high profile to bring in views of schools and other bodies as we expect our County Council to do.
"Our children have made a video on stopping distances.
"Malton Primary is fully behind 20mph, as the current 30mph works against what we are trying to achieve in encouraging children to walk and cycle to school."
Ian Conlan, 20s Plenty lead for the area and Mayor of Malton, said: "North Yorkshire is in the bottom 2% of authorities for people killed or seriously injured on our roads over the years 2015 to 2019.
"We have launched our own Speed Review on the bid to reduce the speed limit in towns and villages to 20mph and will work with local communities, policy makers and the police."
Mr Conlan said more than 140 parish and town councils across North Yorkshire had pledged support for the campaign.
He urged people to write as soon as possible with their views to Cllr Keane Duncan, who holds the cabinet responsibility for speed limit setting as well as to local county councillors.