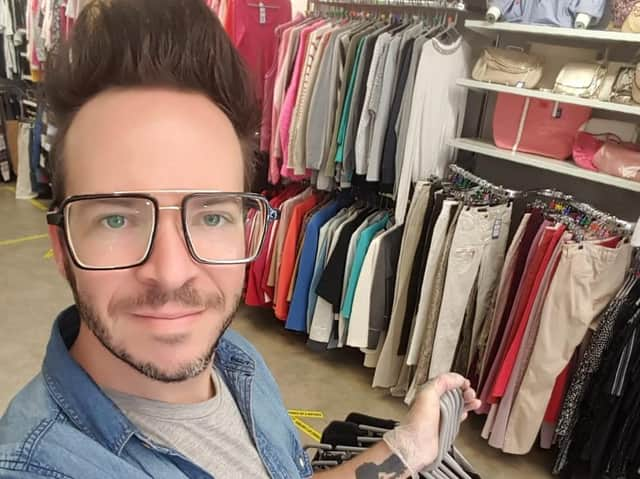 Danny Ross, The Shop Manager
Ann Broadley, 78, who sadly lost her husband to cancer 13 years ago, is appealing for lockdown de-clutterers to dig out and drop off donations at the store on Baxtergate.
Staff and volunteers are rolling up their sleeves to try and claw back millions of pounds in lost sales. But they urgently need help to fill the shelves with new or pre-loved bargains, fashion one-offs and homeware treasures once more to help fund research that could save the lives of more people.
Cancer Research UK expects to see its fundraising income decline by a staggering £300m over the next three years, due to the coronavirus pandemic.
Whitby Cancer Research Shop
But with around 31,000 people diagnosed with cancer every year in Yorkshire*, the charity is determined to continue its mission.
Ann, who lives in Lealholm, knows first-hand just how important new breakthroughs and discoveries are to help more people survive.
The former restauranteur of Shepherd's Hall in Lealholm, which she ran with her husband Phil for 32 years, before he was diagnosed with throat cancer.
What doctors initially thought was an ulcer was later diagnosed as cancer and he underwent three years of treatment at James Cook Hospital.
Shop volunteer, Ann Broadley
Ann said: "He had three years of treatment, but sadly they ran out of options and the cancer was too aggressive. Following his death I wanted to give something back to help the charity carry out more research so I joined the shop in Whitby."
Ann, who has two children and five grandchildren, has volunteered at the shop for the last 10 years and received Special Commendation in the Shop Volunteer of the Year category last year as part of the charity's annual awards.
She said: "After my husband died running the restaurant just was too much so sadly after 32 years we moved on, and I joined the shop a short time after. I'm very faithful to Cancer Research UK and will do all I can to help the charity.
"It's thanks to improved treatments that Phil was able to live for those years following his diagnosis and have more precious time with loved ones, but there's so much more to be done. That's why I hope people will come back out and support the shop now we have reopened. It's upsetting to think about less money being available for research and what this could mean for the future."
The shop requires a range of items
Ann volunteers in the shop three days and week and is available to provide extra support on weekends too when it's particularly busy.
Ann said: "We've all had extra time at home so I hope people have had a clear out ready to drop off at the shop, and like me, be inspired by the charity's commitment to beating cancer and put their lockdown tidying to good use – they really could help to save lives."
Every bag of donated items could raise up to £25 or £31 with Gift Aid if the donor is a UK taxpayer.
Its customers are a critical part of helping to get research back on track, so strict measures are being followed at the Baxtergate store to ensure a safe shopping experience.
These include social distancing, hand sanitiser stations, cough guards at till points and face coverings for shop staff and volunteers, as well as additional cleaning.
Now the shop's doors are open once again, manager, Danny Ross, is hoping for a sunnier outlook and is specifically calling for donations of men, women and children's summer clothing ready for the Great British staycation.
He said: "COVID-19 has hit us hard. Our shops typically contribute more than £25 million each year to vital research, so we're grateful to Ann for rallying the community to help us fight back.
"It's been so good to get back into the shop and we've already welcomed back so many familiar faces.
"Now we're calling on everyone who's had a spring-clean, wardrobe detox or cupboard clear out in lockdown to please bag up and bring in any unwanted items."
Cancer Research UK's work has been at the heart of the progress that has seen survival in the UK double in the last 40 years.
Thanks to the generosity of its supporters, the charity currently funds around 50% of all publicly funded cancer research in the UK and is the only UK charity fighting more than 200 types of the disease.
Danny added: "One in two people will get cancer in their lifetime**, which is why we're absolutely determined to continue to create better cancer treatments for tomorrow.
"Our research has played a role in developing 8 of the world's top 10 cancer drugs and we're working every day to find new ways to prevent, diagnose and treat the disease. But we can't do it alone.
"Every step our scientists take towards beating cancer relies on every pound raised. So, whether they shop, donate or volunteer their time - with the help of people in Whitby and surrounding area we believe that together we will beat cancer."
Donated goods for the Whitby Cancer Research UK shop can be dropped off from 9am-5pm. Shop staff recommend phoning ahead before visiting, as safety measures may mean that storage space is limited.
For more information on Cancer Research UK shops, opening hours or volunteering visit cruk.org/shops.