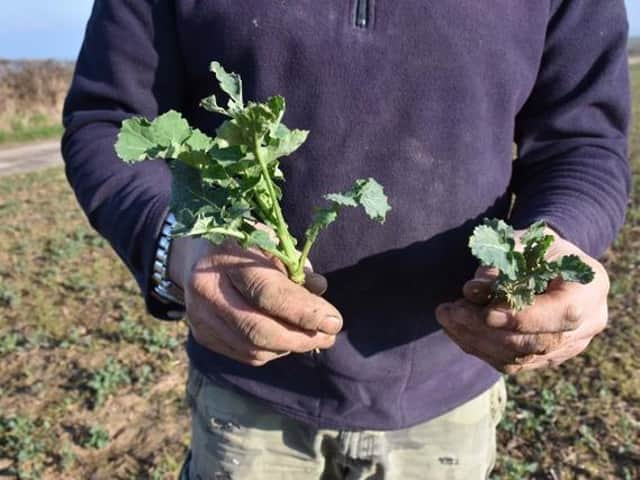 Clear improvement in rape seed oil plant growth
He works as a central overseer at the mine where his shift pattern allows him ample time to keep the farm running with the help of his family and wife Jane.
Boulby mine is currently the only one in the world to mine polyhalite. Marketed as 'ICL Polysulphate' it has a unique combination of four nutrients vital for plant growth and yield: sulphur, potassium, calcium and magnesium in soluble, readily absorbed forms.
Unlike blended or compound fertiliser, it is available in its natural state meaning it is a safe, environmentally friendly product, with a low carbon footprint.
Paul inspecting his crops
Paul explained how he got involved: "I'd asked about buying some standard poly but it was suggested I take part in some trials in local conditions.
"We had to test several spreaders and techniques to see which combination gave us the accurate spread we need. But once we had sorted that we were good to go."
In September, 2019, Paul planted 14 acres of barley, 100 acres of wheat and 12 acres of oil seed rape. He said the difference already is remarkable: "The improved growth is astonishing, not just in terms of size but also of lushness which promises very good yields.
"The oil seed rape fields have done particularly well, with stronger, more vigorous plants and a very noticeable evenness of plant population. It's almost completely covered."
The true test will come in late July when the harvest will be due but he is more than confident of a bumper crop this year – weather always permitting!