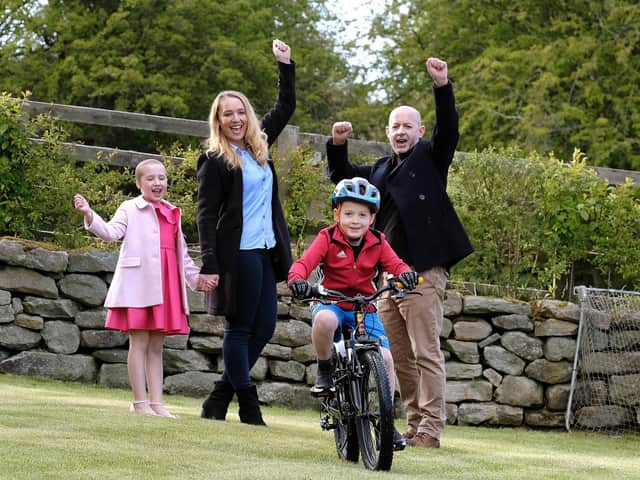 The Hodgson family look forward to Evie's birthday and William's bike ride. 211928p
Four months on from a stem cell transplant to cure her aplastic anaemia, her family say she seems to be recovering well.
She has to continue shielding until doctors think her immune system is robust enough but mum Tina says they are hopeful she will be able to return to school in September and they will celebrate her birthday tomorrow in style.
"Evie is getting stronger every day," said Tina.
Evie Hodgson looks forward to her 9th birthday. 211928d
"She's still very vulnerable to infections but she's absolutely smashing it."
She had to spend three nights in hospital last week after being hit by tonsillitis but Tina said she recovered well and she was back home on Monday.
It was only nine days after Evie's eighth birthday that she was diagnosed with the rare and devastating blood disease, and told a transplant was her best treatment option.
But the donor who was initially found pulled out just a few weeks before the procedure was scheduled, with no explanation, leaving Evie and her family devastated.
They then launched a drive to raise awareness of the stem cell register and how easy it is to donate in a bid to find a new match.
Their appeal caught the hearts of a host of celebrities including Dame Judi Dench and Take That's Gary Barlow, who sent their well wishes to a delighted Evie.
The support Evie and her family have received from several charities - The Aplastic Anaemia Trust, Anthony Nolan and DKMS - has inspired her little brother William to take on an epic cycling challenge next month.
To raise funds for the charities, the six-year-old will pedal a mammoth 26.2 miles around the biggest man-made lake in Northern Europe, Kielder Water and Forest in Northumberland.
"When Evie was searching for her donor, the three charities that he is doing the ride for were really supportive," said Tina.
"As a family, we wanted to do something for them. It was William who said he wanted to do a bike ride."
The little boy - who, like Evie, is a pupil at Fyling Hall School - has been busy training for the challenge and has already raised more than £6,000 in sponsorship.
"We've been trying to get out every weekend for him to practice," said Tina.
Evie's birthday celebrations tomorrow will be a milestone in her journey.
"For all of being eight, she has been poorly," said Tina.
"Because the future was so uncertain for Evie at some points, I just want her to have a fabulous year of being nine.
"I want to make it extra special.
"I asked her what she thinks she'll remember about being eight when she is looking back.
"Everything that she reeled off were positive moments.
"Despite everything she's been through, she never mentioned the chemotherapy or having to have a cannula in. It was all happy stuff."
Click here to sponsor William.