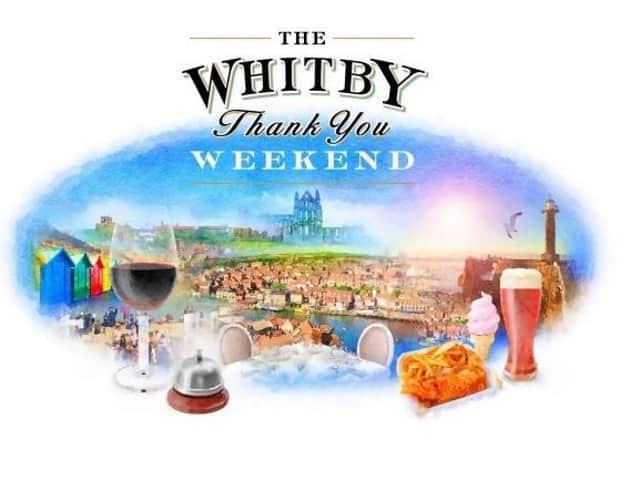 Logo for the Whitby Thank You Weekender.
On October 2 and 3, if the lockdown is lifted, the town will open its door for free accommodation, meals and drinks.
Spokesman for the WHG, Andy Brown, said: "We wanted to come together to do whatever we could to offer a thank you to our NHS frontline workers who are putting themsleves and their families at risk.
"What better way for us to do this than to open up our businesses and provide a really lovely free stay as a big thank you."
To date, 45 business have signed up to the scheme, 31 accommodation providers have allocated 63 rooms and some restaurants, pubs and cafes are offering free meals and drinks.
Whitby Surf School is also on board, offering free lessons.
Free laundry is being provided for those businesses offering free rooms and Whitby Taxis are offering free taxi rides.
The scheme has been put together by a new group of Whitby businesses who came together on Facebook specifically to help each other through the coronavirus crisis.
Andy said: "We have all been hit very hard by the lockdown which we think may well result in significant financial damage to businesses in the town.
"However, we all felt that even though we are only offering a little, it's all we have and we wanted to do something tangible to say thank you to the people putting themselves in harm's way to look after us all.
"We hope that as time progresses, the whole town will get behind this plan and provide our NHS friends with a weekend that they will always remember.
"We also hope that the people who live in the town will go out on that weekend and buy their NHS friends a drink or two.
Guest houses, hotels, pubs and restaurants can join the scheme by clicking here to get involved.
NHS frontline workers can apply or be nominated for the free event here - cut-off for applications is August 28.