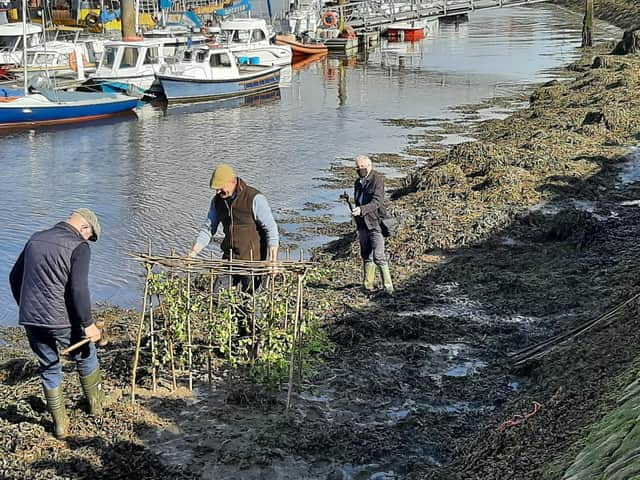 The Penny Hedge successfully built!
A group of around 30 spectators gathered in sunshine along Church Street, not far from Parkol Marine, to witness the return of the beloved ceremony, which began at 9am.
Bailiff of the Manor of Fyling Court Leet, Lol Hodgson, said: "I'm amazed at how many people there were here with Government regulations keeping it as low key as is reasonably possible.
"There were 20 or so folks here at half eight, but it's a nice day and the tide is just right, and that makes all the difference."
The Penny Hedge ceremony drew a decent crowd.
The ceremony - which takes place on the eve of Ascension Day each May - dates back to 1159 when, according to legend, the Abbot of Whitby imposed a penance on three hunters and on their descendants for all time, for murdering a hermit on the outskirts of the town at Eskdale.
The hedge - the penance imposed by the Abbot - made out of woven willow stakes, must withstand three tides.
The reference to penny is because a knife of a penny price must be used.
The hedge was constructed by Mr Hodgson and hornblower Tim Osborne, who is also the chairman of Staintondale Hunt, followed his blasts on the horn with three cries of Out On Ye.
Planting of the hedge on a fine spring morning.
Members of Whitby Community Choir then performed a short song about the ceremony.