Yorkshire coast locations Whitby, Filey and Robin Hood's Bay named among the best seaside towns in the UK in Which survey
Filey has been named among the 10 best seaside towns in the UK along with two other Yorkshire locations Whitby and Robin Hood's Bay.
Watch more of our videos on Shots! 
and live on Freeview channel 276
Visit Shots! now
Which? asked visitors to rate their favourite beaches, attractions, scenery, value for money and more for almost 100 seaside towns and villages across the UK. With more than 4,000 visitors to the UK seaside participating in the survey, a large number of them voted for three locations on the Yorkshire coast.
Visitors rated Filey four stars for peace and quiet, tranquillity, while its beach has been rated five stars and the town was given an overall destination score of 81 per cent. You'll not only be able to catch a tan on a sunny day at the popular beach, you will also be able to pay less than other popular destinations along the southern coast too.
The average cost of a hotel room in Filey is £92 compared to £182 in St Ives and 15 of nearly 100 British destinations on the list were awarded four or five stars for peace and quiet including Robin Hood's Bay and Whitby.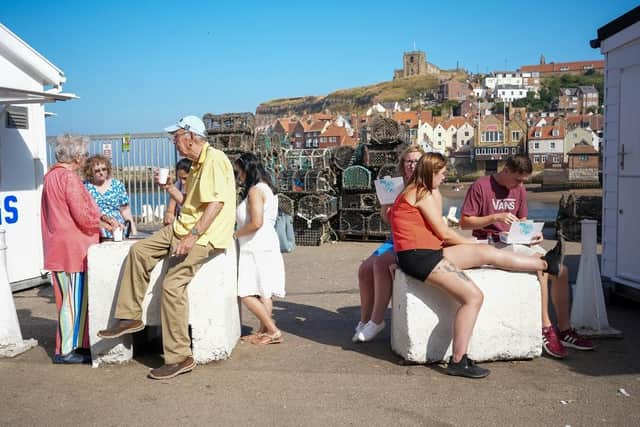 Every destination is rated by visitors on its beach, seafront, attractions, value for money, peace and quiet and scenery. So whether you are in the mood for a quiet break with stunning views in Robin Hood's Bay or popular attractions and great food in Whitby, there are plenty of locations to choose from for everyone.
The town named the best was Bramburgh in Northumberland; it won visitors over with its stunning scenery, beach and peaceful surroundings.
Best seaside towns in the UK - including Whitby, Filey and Robin Hood's Bay
1 - Bamburgh, Northumberland
Seafront/pier: Five stars
Food and drink: Three stars
Tourist attractions: Four stars
Peace and quiet: Five stars
Value for money: Five stars
2 - Llandudno, Conwy, Wales
Seafront/pier: Five stars
Food and drink: Four stars
Tourist attractions: Five stars
Peace and quiet: Three stars
Value for money: Five stars
Food and drink: Four stars
Tourist attractions: Five stars
Peace and quiet: Three stars
Value for money: Three stars
Seafront/pier: Five stars
Food and drink: Four stars
Tourist attractions: Four stars
Peace and quiet: Three stars
Value for money: Three stars
Seafront/pier: Five stars
Food and drink: Four stars
Tourist attractions: Five stars
Peace and quiet: Three stars
Value for money: Three stars
6 - St Davids, Pembrokeshire
Food and drink: Four stars
Tourist attractions: Five stars
Peace and quiet: Three stars
Value for money: Three stars
Seafront/pier: Five stars
Food and drink: Four stars
Tourist attractions: Three stars
Peace and quiet: Four stars
Value for money: Three stars
8 - Filey, North Yorkshire
Seafront/pier: Five stars
Food and drink: Three stars
Tourist attractions: Two stars
Peace and quiet: Four stars
Value for money: Five stars
Seafront/pier: Three stars
Food and drink: Three stars
Tourist attractions: Four stars
Peace and quiet: Three stars
Value for money: Three stars
Seafront/pier: Five stars
Food and drink: Three stars
Tourist attractions: Four stars
Peace and quiet: Three stars
Value for money: Three stars
Seafront/pier: Three stars
Food and drink: Three stars
Tourist attractions: Three stars
Peace and quiet: Three stars
Value for money: Three stars
12 - Lytham St Annes, Lancashire
Seafront/pier: Five stars
Food and drink: Five stars
Tourist attractions: Three stars
Peace and quiet: Four stars
Value for money: Five stars
13 - Robin Hood's Bay, North Yorkshire
Seafront/pier: Four stars
Food and drink: Three stars
Tourist attractions: Two stars
Peace and quiet: Four stars
Value for money: Four stars
Seafront/pier: Five stars
Food and drink: Four stars
Tourist attractions: Three stars
Peace and quiet: Four stars
Value for money: Two stars
Seafront/pier: Five stars
Food and drink: Three stars
Tourist attractions: Two stars
Peace and quiet: Four stars
Value for money: Three stars
16 - Lymington, Hampshire
Seafront/pier: Five stars
Food and drink: Four stars
Tourist attractions: Three stars
Peace and quiet: Four stars
Value for money: Three stars
17 - Wells-next-the-sea, Norfolk
Seafront/pier: Four stars
Food and drink: Three stars
Tourist attractions: Three stars
Peace and quiet: Three stars
Value for money: Three stars
18 - Whitby, North Yorkshire
Beach rating: Three stars
Seafront/pier: Four stars
Food and drink: Four stars
Tourist attractions: Four stars
Peace and quiet: Two stars
Value for money: Four stars
Seafront/pier: Five stars
Tourist attractions: Three stars
Peace and quiet: Three stars
20 - North Berwick, East Lothian