Yorkshire coast route from Robin Hood's Bay to Whitby named one of the best coastal walks in the UK by experts
Experts have named the Robin Hood's Bay to Whitby footpath as one of the top 15 coastal walks in the country.
Watch more of our videos on Shots! 
and live on Freeview channel 276
Visit Shots! now
The list of best coastal walks in the UK was put together by outdoor experts at GO Outdoors who have collated the grade of the walk (easy to difficult), the distance in kilometres and the estimated time it takes to complete the walks. Based on this information they have listed the best walks - the Yorkshire coast route is one of them.
Coastal walks offer tranquil, relaxing escapes from the fast paced, busy city life where you can take in the stunning views and landscapes of the seaside. A walk along the beach, breathing in the sea air is thought to make you sleep for longer periods of time, but it also provides beautiful, dreamy backdrops. The Robin Hood's Bay to Whitby walk has made the list.
Senior content executive at GO Outdoors, Georgina Eastabrook, explains the importance of walking and benefits that come from a coastal walk: "Coastal walks aren't just relaxing, they're a nice break from the mountains and hills. A walk in the sea air is said to make you feel more relaxed, whilst offering up some stunning views that are hard to beat."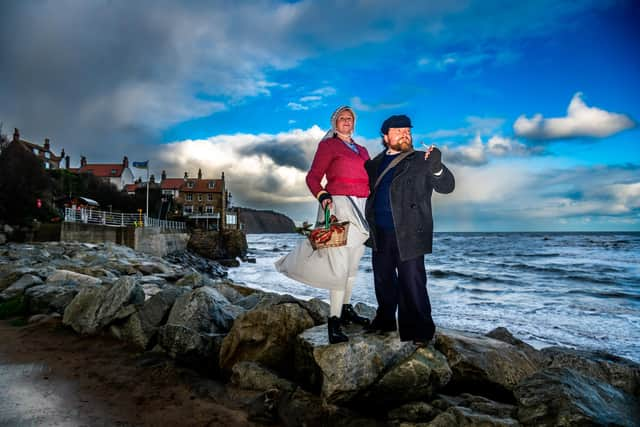 Best coastal walks in the UK - including Robin Hood's Bay to Whitby route
1 - Craster, Northumberland
The walk from the village of Craster to Low Newton provides some of the picturesque coastline in Northumberland. Along the way you will be greeted by the ruins if Dunstanburgh Castle as well as the beautiful beach of Embleton Bay.
Duration: Approx. 4 hours and 15 minutes
2 - Old Harry Rocks, Dorset
This is one of the best ways to take in the stunning Jurassic Coast in Dorset and was recently featured on Julia Bradbury's 'Britain's Best Walks'.
Duration: Approx. 1 hour and 50 minutes
3 - Sandwood Bay, Sutherland, Scotland
This is thought to be one of the nicest beaches in Britain, and a beach that even when busy, still releases a sense of peace and tranquility due to no facilities being at the beach and no car park to reach it directly.
Duration: Approx. 1 hour and 55 minutes
This island is off the North of Wales and has plenty of walking routes and things to do. The walk will take you up Holyhead mountain and leading to the photo opportunity that is South Stack Lighthouse.
Grade: Moderate (distance)
Duration: Approx. 4 hours and 20 minutes
5 - Causeway Coast Way, Northern Ireland
The Causeway Coast Way is a 33-mile section of walk in County Antrim and will take you from Portstewart to Ballycastle. Along the way you will pass castles, areas of outstanding natural beauty, bays and beaches and the Giant's Causeway that gives the path its name.
Duration: Approx. 4 hours and 50 minutes
6 - Whitehaven, Cumbria, England
The walk from St Bees to Whitehaven takes in some of the best coastline in Cumbria. Part of the Cumbrian Coastal Way and the English Coast Path.
Grade: Moderate (distance)
Duration: Approx. 4 hours and 25 minutes
7 - Norfolk Coast Path, Norfolk, England
The Norfolk Coast is a recognised area of outstanding natural beauty, so you can assume the Norfolk Coast path takes you through some incredible scenery along the edge of England. Go Outdoors recommends you walk along the section between Weybourne and Cromer, if you are just looking for a long day walk.
Duration: Approx. 3 hours and 40 minutes
8 - Bullers of Buchan, Aberdeenshire, Scotland
The Bullers of Buchan is some of the finest area of coastline in Aberdeenshire. You can choose to start your walk there and head to Boddam, or for a longer walk, it's worth starting a little lower at Cruden Bay. As well as the stacks, arches and caves, along the way you can see plenty of caves, the ruin if Castle Boddam and the Buchanness Lighthouse.
Duration: Approx. 2 hours and 45 minutes
9 - Three Cliffs Bay, Gower, Wales
The Wales Coast Path as far as we're concerned is a treat pretty much all the way around, so picking out certain walks is difficult. This walk is an easy circular walk from Penmaen to Three Cliffs Bay.
Duration: Approx. 1 hour and 10 minutes
10 - Durdle Door & White Nothe, Dorset, England
The stunning area of the South West Coast Path in Dorset is one that will take your breath away. The walk will take you to Durdle Dar and Lulworth Cove, it's also known as a good walk for dogs as they are allowed on the beaches on these locations.
Duration: Approx. 3 hours and 55 minutes
11 - The Mull of Galloway, Dumfries & Galloway, Scotland
Part of the Mull of Galloway trial which reaches from the Mull to Stranraer, though for those wanting to take in a section of the trail, there is a great six-mile walk at the Mull itself. The area offers stunning views of cliffs, sea, sea birds and a lighthouse.
Duration: Approx. 3 hours and 20 minutes
12 - Borth to Aberystwyth, Ceredigion, Wales
The Ceredigon Coast Path, part of the Wales Coast Path offers up the stunning views you would expect and a great way to explore this side of Wales. The walk starts with incredible views over Cardigan Bay, where you can see Snowdonia in the North when it is clear enough. However, it is not suitable for people with vertigo as it sometimes gets quite close to the edge of the cliff.
Duration: Approx. 3 hours and 50 minutes
13 - St Abb's Head, Berwickshire, Scotland
St Abb's head is a National Nature Reserve near the village of St Abb's in Berwickshire. The walk is ideal for nature lovers, so it is advisable to bring your binoculars and camera along.
Duration: Approx. 1 hour and 55 minutes
14 - Stack Rocks to St Govans, Pembrokeshire, Wales
A walk filled with great opportunities for photos on the stunning Pembrokeshire Coastline, where you will start at Stack Rocks and visit the famous Green Bridge of Wales along the way as well as admire the untouched nature of the area brimming with wildlife.
Duration: 1 hour and 35 minutes
15 - Robin Hood's Bay to Whitby, Yorkshire, England
Robin Hood's Bay is a pretty little beach area in North Yorkshire, perfect for a day trip, but if you are also looking for a cliffside walk all the way to Whitby, where you will pass Whitby Abbey, then this route is encouraged. You will be met with picturesque views from start and end points of the path.
Duration: Approx. 3 hours and 40 minutes