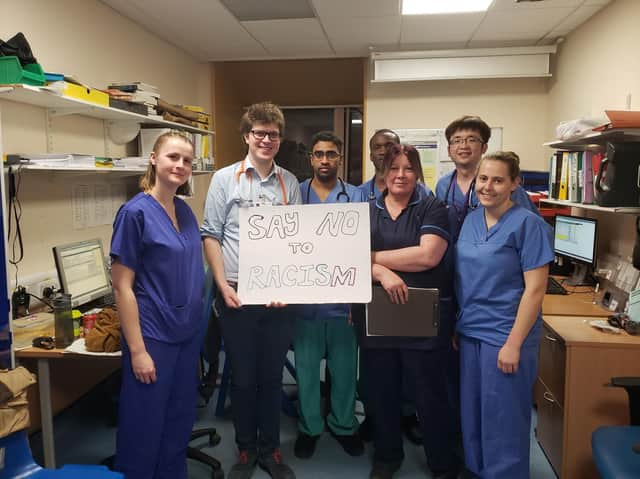 Yee Yong See with some of his colleagues
Yee Yong See, a respiratory medicine registrar at Scarborough Hospital, said the stream of messages posted on our Facebook page in reaction to his story has helped keep him going as he and his colleagues continue to help victims of the disease.
"Many thanks for all the kind words and all the comments," said Dr See.
"They really motivate me to keep on standing at the frontline."
Dr See - who is Malaysian Chinese - spoke to the Scarborough News about the abhorrent prejudice he and fellow NHS staff have been encountering since the coronavirus outbreak started.
He urged members of the public to speak out against racism whenever they can.
Doctor See's story attracted scores of messages on our Facebook page from people backing him.
Jue Guy Chadwick posted: "So sad and annoyed to hear this, thank you for putting yourselves on the front line, for everyone whose lives you are working so hard to save right now."
John Gelson posted: "Thank you and take care to you and all the team at Scarborough Hospital, who are doing an incredible job in the most challenging situation imaginable."
And Pam Wardle posted: "You are appreciated by so many people - so sorry that you are experiencing this abuse. Shame on them."
As well as thanking people for their comments, Dr See urged everyone to follow the Government advice about staying home where possible to help alleviate the pressure on the NHS.
"I would like to also advise people to stay at home if at all possible as I can tell that the patients number is increasing at Scarborough Hospital," he said.