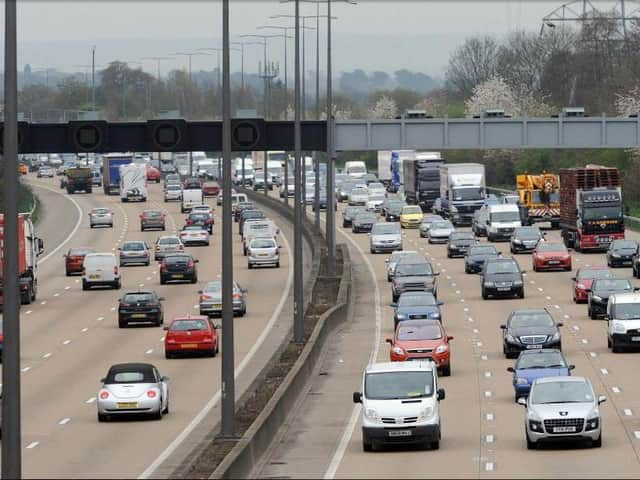 Billboards around the M25 could be put up as part of a campaign to get visitors to return to Yorkshire. Picture: PA
Tourism agency Welcome to Yorkshire is publishing details today of a collaborative recovery plan designed to "reopen, recover and rebuild" the sector, which employs almost 225,000 people in the region but has been left stricken by the consequences of coronavirus.
Most hospitality businesses have been closed since March, with the region's economy believed to have lost billions as a result of lockdown.
Chief executive James Mason said that in addition to reaching potential visitors through social media channels, WTY is considering some billboard advertising around London and the South East as it attempts to entice visitors back.
The Yorkshire Dales. Picture: VisitBritain
"We are thinking of some billboard advertising in and around the M25," he said.
"That would reach two audiences - people who know Yorkshire exists, are really proud of it and want to come back and actually other people going 'I didn't know Yorkshire had a coastline and national parks'."
Mr Mason admitted uncertainty remains around precisely when the campaign will launch - which is dependent on the lifting of Government travel restrictions and potential changes to social distancing measures, as well as when different areas of Yorkshire feel ready to welcome visitors again.
The Government has targeted July 4 as a reopening date for tourism businesses but currently holiday accommodation remains closed, hotels are only open to specific groups like critical workers and people are prevented from staying away from their own home overnight for a holiday.
But with just a fortnight to go until reopening, hospitality businesses are still yet to be issued with national guidance on how they can welcome guests back safely.
Welcome to Yorkshire, which has struggled financially in the fallout to previous chief executive Sir Gary Verity's resignation in March 2019 on health grounds amidst bullying and expense spending allegations, also intends to revise its membership model for businesses, starting with a free entry level service as part of the recovery plan.
Mr Mason said there were some positive signs that Yorkshire could capitalise on an expected increase in 'staycation' holidays in the remainder of the year after more than 90 per cent of the traffic to the agency's www.yorkshire.com website came from first-time visitors in May. Meanwhile, a 'World Cup of Yorkshire' competition run by the tourism agency on social media reached several million people.
Mr Mason said: "We have got to be really creative. We are also going on our own journey and budgets are a lot less than previously.
"We have demonstrated in the last three months we can make a big impact on our digital channels."
Among other parts of the recovery plan is the launch of a Yorkshire gift card which holders will be able to spend at participating businesses, while WTY intends to imminently launch individual memberships for general members of the public who have a personal connection with the county.
WTY also intends to establish a 'recovery task group' made up of public and private sector partners with tourism expertise and is inviting people who feel they could contribute to get in touch.
"Anyone who wants to take part in that is welcome to step forward," Mr Mason said.
"We want to get it up and running as soon as we have enough applicants."
Welcome to Yorkshire Chair Peter Box added: "I am confident that our recovery plan will be a hugely important step forward in rebuilding a successful visitor experience, attracting tourists back to the county and playing its part in helping Yorkshire's economy recover."
Editor's note: first and foremost - and rarely have I written down these words with more sincerity - I hope this finds you well.
Almost certainly you are here because you value the quality and the integrity of the journalism produced by The Yorkshire Post's journalists - almost all of which live alongside you in Yorkshire, spending the wages they earn with Yorkshire businesses - who last year took this title to the industry watchdog's Most Trusted Newspaper in Britain accolade.
And that is why I must make an urgent request of you: as advertising revenue declines, your support becomes evermore crucial to the maintenance of the journalistic standards expected of The Yorkshire Post. If you can, safely, please buy a paper or take up a subscription. We want to continue to make you proud of Yorkshire's National Newspaper but we are going to need your help.
Postal subscription copies can be ordered by calling 0330 4030066 or by emailing [email protected] Vouchers, to be exchanged at retail sales outlets - our newsagents need you, too - can be subscribed to by contacting subscriptions on 0330 1235950 or by visiting www.localsubsplus.co.uk where you should select The Yorkshire Post from the list of titles available.
If you want to help right now, download our tablet app from the App / Play Stores. Every contribution you make helps to provide this county with the best regional journalism in the country.