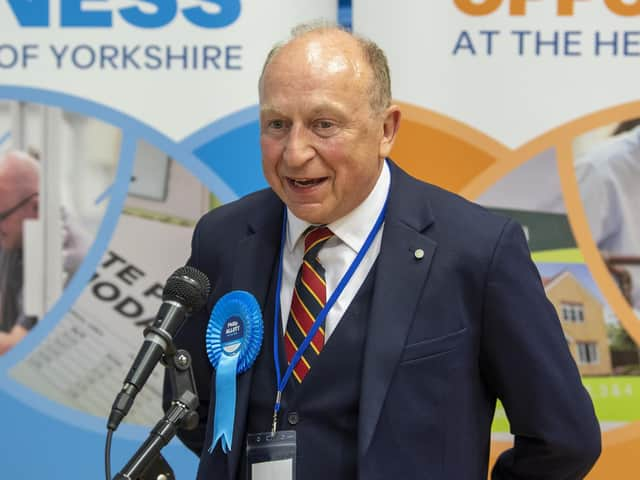 Philip Allott is the new North Yorkshire Police, Fire and Crime Commissioner.
Mr Allott took 84,737 of the first and second-preference votes.
Labour candidate Alison Hume won a total of 53,442 votes, putting her in second place.
North Yorkshire and York residents voted for the area's first new police, fire and crime commissioner for the first time since 2012. Julia Mulligan has held the post since then.
In Scarborough borough, a total of 18,399 people cast a ballot, making the turnout 22.04 per cent.
That was up from 18.42 per cent in the last commissioner election in North Yorkshire in 2016.
Mr Allott, from Knaresborough, is the managing director of a PR and marketing agency. He was the former leader of the Conservative group on Harrogate District Council.
The results from the first stage of the count, which includes the two candidates that did not go through to the second stage count, were:
Phillip Allott (Conservative) - 73,657
Alison Hume (Labour) - 40,803
Keith Tordoff (Independent) - 22,338
James Barker (Liberal Democrats) - 19,773
The overall turnout for the elections was 25.33%.
Before the election Mr Allott said a toughened approach to crack down on County Lines drug dealing would be the top of his agenda if he won.
The former pupil at King James' School Knaresborough said despite the best endeavours of North Yorkshire Police and the regional crime unit, County Lines dealers "are obviously still very active in North Yorkshire".
Mr Allott said he would push for further work to enable teachers to spot pupils who are part of County Lines drug dealing, help housing associations to identify cuckooing and action to spot children carrying drugs on railways.
He said: "The police on their own are not going to solve this and I see my role as working with different agencies, getting them all on board and actually communicating with each other, sharing intelligence and working for the greater good."
Mr Allott said as commissioner he would also foster closer working with other agencies, launching a "complete reset" between the councils and the commissioner's office.
He said: "We should be working for the greater good. I see the councillors from each of the different authorities as the eyes and ears of the commissioner. I see it as a partnership approach and that's perhaps a very different way of looking at things."