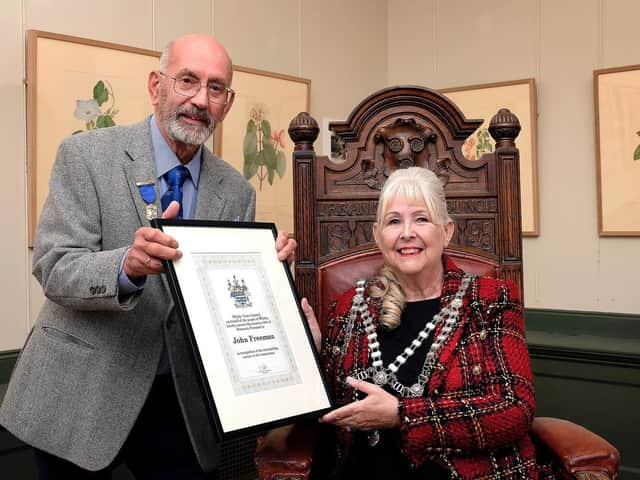 John Freeman receives his Honorary Freeman award from the Mayor of Whitby, Cllr Linda Wild.
Current Mayor, Cllr Linda Wild, said it was her absolute privilege to present the award, which is only on "rare and exceptional occasions."
It is the first award to be made under the revised title of honorary freeman.
Cllr Wild said from time to time, members of the community demonstrate outstanding commitment and contribution to the wellbeing of the town of Whitby and it is recognised that their efforts should be acknowledged.
"Fittingly, John Freeman is our first honorary freeman which is quite a coincidence and quite historical," she told the recent annual town assembly.
Mr Freeman, a three-time Mayor and councillor for many years, was nominated by residents Chris Riddolls and Dennis Collins.
"I am more than delighted to accept, very humbled," said Mr Freeman, who has an art gallery in the Market Place.
"Whitby always been a place that we came to as children.
"When we moved here, it's given me a wonderful life and I have been really pleased to put a little bit back into the town via the council and via other things that I've tried to do.
"I'm really pleased and proud to accept that and it is rather amusing situation to be a freeman of a freeman!
"I think it's going to get a few comments from people.
"I'm grateful to be nominated and very grateful to the town council to have accepted that situation and made me the first freeman of Whitby."