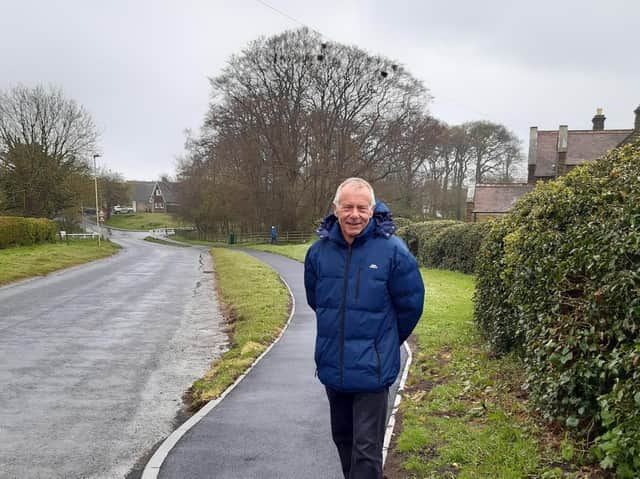 Cllr Derek Bastiman standing on the new path.
The footpath on Barmoor Lane provides a vital link for residents to facilities in Scalby and has seen increasing use.
The surface had reached the end of its life and required essential repairs with the once narrow footpath being given a new lease of life, which has been welcomed by councillors and residents alike.
Gordon Jenkinson moved to the street around three years ago and cannot believe how much of a difference the new-look footpath has made.
Before the footpath repairs... and after.
"The finished product looks brilliant and unrecognisable," said Gordon. "I know how much work was involved so to get it finished in three weeks was very impressive.
"The contractors completed the work with little disruption and were very quick. The path was in desperate need of repairs but it was definitely worth the wait."
North Yorkshire County Council carried out the repairs on Barmoor Lane from the ford to outside Wrea Head Cottages in April.
"Our highways team deserve some recognition for the incredible job they have done," added Cllr Derek Bastiman. "We have a responsibility to keep footpaths, as well as roads, safe to use and this is a great example of our teams going the extra mile to ensure they are up to a high standard.
"Barmoor Lane is a vital link to facilities in Scalby so I'm very pleased to see the improvements and the reaction from residents. The path is much wider and the lining is very clear. It has been a very well-executed project by all involved."