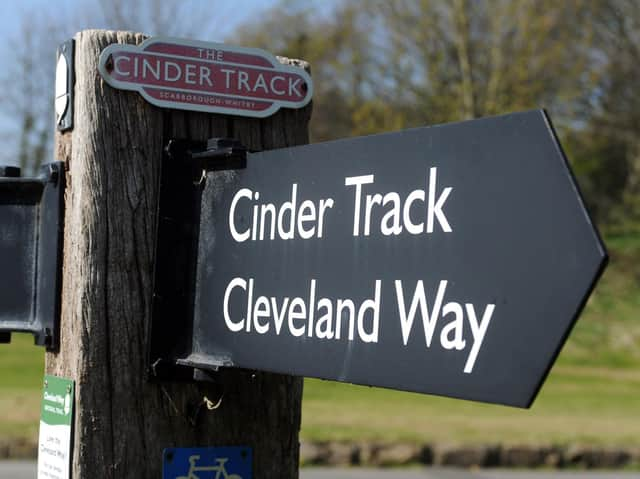 Stock image: JPI Media/ Tony Johnson
Scarborough Council say restoration of the route, which follows the former Scarborough to Whitby railway line, will vastly improve users' access and experience, promote environmentally sustainable methods of travel, facilitate active lifestyles and help to support wildlife.
The works, coordinated by Scarborough Council, are in line with the Cinder Track Restoration Plan, which was agreed following public consultation in 2018 and has been guided by the Cinder Track Steering Group, set up to manage the restoration of the 21.5 miles long route.
To allow for the restoration to go ahead, ground work clearance begins this week on the stretch between Whitby and the Larpool Lane area.
Following landscape work, the council's approved contractors are expected to start the major re-surfacing work during the February half term holiday - February 17 - 21 - to minimise disruption to the two Caedmon College sites, which are linked by the Cinder Track.
An upgrade to drainage and surfacing upgrade will improve the usability of the route by school children and also make it more accessible to others.
Funding for the Whitby to Hawsker upgrade was secured by Sustrans, the Sustainable Transport charity, allocating £275,000 of investment from The Department for Transport.
Scarborough Borough Council has committed a further £60,000.
Paul Thompson, Scarborough Borough Council operations, transport and countryside manager said: "This is the first phase of the most significant improvement project to take place on the Cinder Track in many years and will deliver the aspirations for the Whitby end of the track agreed in the Restoration Plan.
"Some disruption is inevitable during the works and so we ask everyone to bear with us while the important work is carried out. We will make every effort to maintain access and signpost users to alternative routes where possible.
"Where our contractor has to put in some rolling closures of stretches of the track during the work, we will try to provide as much notice as possible and we apologise in advance for any inconvenience caused."