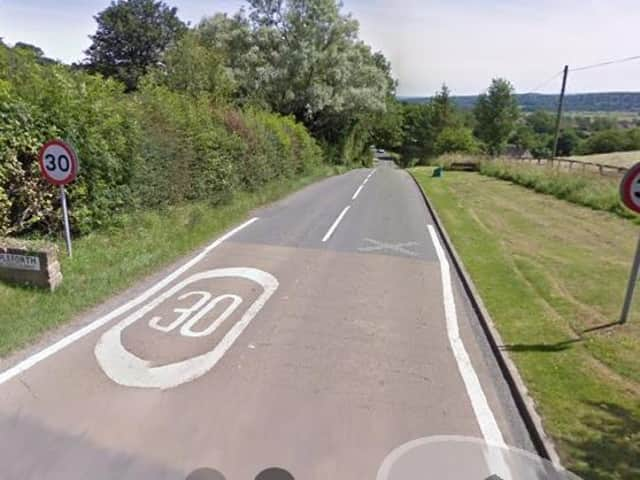 Ampleforth picture: Google images
Mixed arable and livestock farmer Simon Dunn's scheme to create an L-shaped secure self-storage compound off Ampleforth High Street will be considered by the national park authority's planning committee next week.
Application documents state the development would be an important farm diversification for the business, particularly due to uncertainty facing agriculture following Brexit.
They state: "In order to survive and thrive in a challenging market, farm businesses have been actively encouraged by the Government to look at ways to diversify and to create income streams that are not tied solely to farming.
"Some local farms have diversified into tourism, farm shops etc.
"In an effort to diversify, Mr Dunn has opted to pursue a different approach and has created a self-storage business with a unique selling point – customers like the security and familiarity of storing their goods and belongings on a farm.
"Passive and active security on a working farm is provided by an on-site residential presence at all times."
However, planning officers have poured cold water on the claims, saying while there had been been a national increase in the use of shipping containers for storage, there were already similar storage facilities at Pickering and Thirsk, just outside the national park.
Officers said those existing businesses could serve both the urban and rural communities along the southern edge of the national park, without encouraging additional car and van journeys on smaller roads in the park.
A report to the meeting states: "Officers consider the use does not require a location within a national park and they would be more appropriately located outside a protected landscape.
"The steel functional designs of the units are not considered to be examples of good quality design envisaged by the policy for the establishment of new business uses in the countryside.
"In summary, whilst the facility would offer a local facility with some economic rural benefit, officers consider this type of 'anywhere' use is not appropriate for a farm location in the open
countryside in a protected landscape by reason of industrialising the locality and refusal in line with the development plan is recommended."