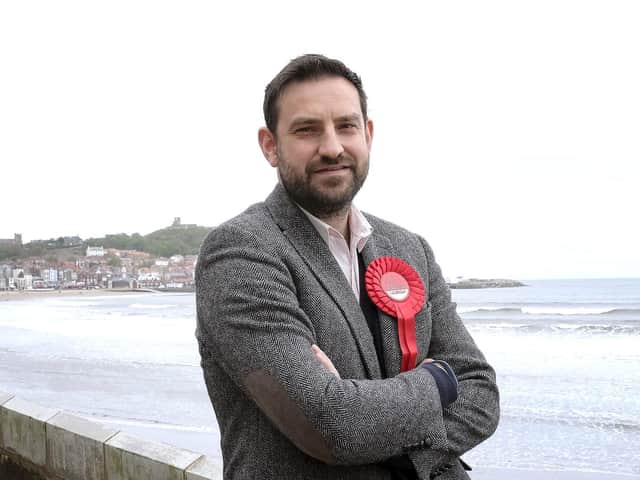 Labour candidate Hugo Fearnley.
The Scarborough News quizzed all four candidates standing for Scarborough and Whitby at the December 12 General Election.
You can find our interview with Conservative Robert Goodwill HERE.
Today we focus on Labour's Hugo Fearnley.
Mr Fearnley works in the family business at Whitby Business Park. Over the years he has lived in China (he studied Mandarin Chinese at Newcastle University), Africa, where he volunteered, and London. He moved back to Yorkshire in 2010.
Here's how he answered all the questions put to him.
Brexit: What's your stance on Brexit, and what impact do you think it will have on the borough? How do you intend on resolving the current impasse while making sure the will of the people is respected?
Hugo Fearnley: "My position has always been to respect the referendum result. I also believe that had the Government not so shamelessly manipulated that referendum decision, to turn it into a damaging economic departure as opposed to a political departure, we'd have left the EU by now. The only sensible way out of the parliamentary deadlock is for a Labour government to negotiate a departure from the EU that will not only protect our economy and our NHS, but also bring an end to this Brexit shambles by protecting our trading arrangements. The Conservative deal that is on the table now does condemn us to years of uncertainty, does threaten the NHS and does threaten the viability of our farming sector. Labour will give the citizens of Britain an informed and realistic choice – a managed and proper departure protecting this country's interests or Remain."
Climate change: Scarborough Council, which declared a climate emergency earlier this year, has a target of making the area carbon neutral by 2030. As an MP, what steps will you take to ensure concrete measures can be brought in for Scarborough and Whitby?
Hugo Fearnley: "There are a number of things which can be done specifically in our constituency, starting with reinstating bus routes and encouraging people onto public transport. With a large rural constituency, there will always remain a need for some private transport and we would encourage the switch to electric vehicles by offering interest free loans and increased charging points within the constituency. As a north coast constituency we are ideally placed to benefit from the massive investment in offshore wind which Labour proposes. I am also committed to doing everything in my power to assist and work with our farming community, to help not only our environment but the farmers themselves by keeping up with innovative green farming practices."
Low paid jobs: Recent research from the BBC shows that people working in coastal towns are paid on average £1,600 a year less than people inland. As an MP, how do you plan to address the issue of low paid jobs which is driving young people away?
Hugo Fearnley: "For nearly a decade now the Tory Government has done everything in its power to make life as difficult as possible for working people. They boast about unemployment figures while people struggle under the yoke of zero hours contracts and still have to rely on benefits and foodbanks to get by.
"As for new jobs, Labour is 100% committed to a Green Industrial Revolution which will create tens of thousands of new, highly skilled, well paid jobs and 320,000 green apprenticeships nationally. Unlike the Government's empty promises of a Northern Powerhouse, I will make certain that Scarborough and Whitby is at the heart of the technological green revolution which in some other countries is already taking place."
Transport: With the A64 still waiting to be upgraded, and rail services unreliable, many feel that unless something is done "we will be left behind". What are your plans to improve our transport links?
Hugo Fearnley: "I have absolutely no confidence in TransPennine, Northern Rail or for that matter, any of the privately owned rail companies who have proved beyond a shadow of doubt they are motivated by profit alone and have little regard for the fare paying passengers. That is why a Labour government has at the heart of its manifesto, the renationalisation of rail. The rail links in our constituency are abysmal and nationalisation alone will not fix the problem. We need new routes to improve connectivity or we will truly be left behind. Additionally, the cancellation of certain bus routes has worsened the already growing problem of rural isolation. Labour will reopen many of the cancelled bus routes and I will make the case for many local routes to be reinstated here.
"It is beyond time that the A64 became a dual carriageway. I will do all I am able if elected to parliament, to ensure this happens and that it happens in conjunction with the electrification of vehicles."
NHS: What will you do to make sure local NHS services receive more funding? Parties have made pledges to increase funding to the NHS overall but how will you make sure local services will benefit directly?
Hugo Fearnley: "The first and most important thing I would do as the parliamentary representative of the people of Scarborough and Whitby is vote with a Labour Government to prevent any further marketisation of the NHS which is slowly but surely leading to privatisation. The ridiculous spectacle of our public health service competing for health provision contracts against private providers is largely responsible for the continuing cuts to services and funding.
"Locally, we have been witness to problematic restructuring in Scarborough and the so-called redevelopment at Whitby. In both cases, the problem of waiting times has not been addressed and only a major reinvestment, including for our ambulance service, will fix the problem of people having to travel longer distances in the case of emergencies."
Mental health: Scarborough has the 8th highest suicide rate in the country. What will you do to improve local mental health services?
Hugo Fearnley: "It is clear that we have a local and national mental health crisis. One in four of us will experience mental ill health as adults and in my earlier years I was one of them. We must de-stigmatise this issue by talking openly about it, especially men. More importantly we must seriously invest in mental health provision, especially for young people as 75% of mental health problems are established by age 24. Labour will invest £845m in child mental health services, including placing qualified counsellors in every school."
Social care: Social Care campaigners are asking for better funding, incentives to encourage providers to invest and measures to recognise the work care workers and unpaid carers do. What will you do to support this call?
Hugo Fearnley: "Labour will introduce free personal care which will ensure people with dementia receive the same care as those with other conditions, reduce the burden on unpaid carers and benefit the NHS by reducing delayed transfers and so called 'bed blocking'. We must value the incredible job done by care workers and therefore Labour will ban zero-hours contracts, ensure carers are paid a decent wage, including travel time between visits and improve access to training."
Education: Children in coastal schools achieve on average two and a half grades lower at GCSE than their inland peers, according to research by the Department for Education. What will you do to narrow this gap and support our schools in the Opportunity Area?
Hugo Fearnley: "So many of the problems we face are down to lack of investment. One only has to look at the work done by the School Cuts organisation who have provided facts not even challenged by the Government, to see that schools in our constituency have been at the savage end of Tory cuts. Labour has a bold and exciting plan to introduce a National Education Service that would provide lifelong learning for all. We will support early years by reinstating Sure Start centres and providing free school meals for all primary school children. We will also invest in vocational training so that it is no longer seen as the poor relation to academic courses."
Trust: Why should voters trust you as opposed to the other candidates? What is your background?
Hugo Fearnley: "Voters will have to pass their own judgement on the trustworthiness of the other candidates. For my part I have spent the best part of my life studying, working and socialising in Scarborough and Whitby. Over that time I have always sought to conduct myself with honesty and integrity, in both my working and personal life. I would never be so arrogant as to suggest I have not made mistakes in the past, I dare say we have all done things we have regretted somewhere along the line. However, I was brought up to admit your mistakes, to tell the truth and to treat people with respect. It would be a huge privilege to serve the people of this constituency and I would do everything within my power to improve the lives of the people here."