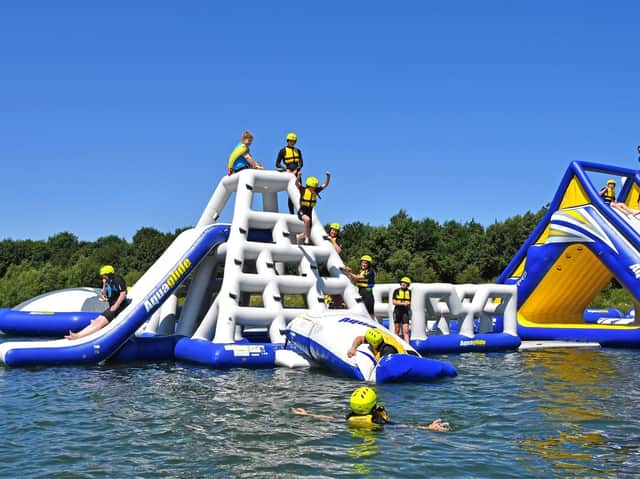 Stock image North Yorkshire Water Park.
In April 2019 The Dawnay Estates received planning consent from Scarborough Borough Council in April to expand the North Yorkshire Water Park, based on Wykeham Lake and add in wakeboarding lines.
As part of the approval, a condition was placed on the attraction that it should have a winter break between November 1 and March 31 and all inflatables linked to the water-based assault course were removed from the lake in order to protect birds.
The operators today asked Scarborough Council's planning committee to approve a three-year trial of activities running throughout the year.
The committee decided instead to defer the application so they could take a site visit after members raised concerns about its impact on migrating birds.
Cllr Glenn Goodberry told the committee he was "fearful" that a lot of damage could be done to the bird population during the three-year trial period.
He said: "Wakeboarding is not conducive to wading birds.
"It's disruptive and creates quiet a large wake. In winter months we get quite a lot of migratory species visiting England from Russia and all over the place.
"I'm just concerned that the wakeboarding side of it all year round will have a negative impact on bird life. Our officers have admitted they do not know what the impact is going to be."
His fellow Conservative Cllr Clive Pearson proposed the site visit after saying there was no information on the precise species of birds using the lake.
The applicants had previously agreed to close the site during extreme cold weather following advice from local ornithologists.
The committee voted to defer the application until after councillors had been to look at the site.
The park opened in 2017, offering visitors two aquatic challenge tracks alongside pedalos and open water swimming.
Last year, it succeeded in getting the approval to grow the operation to include the creation of an "aqua park zone" which consists of inflatable equipment that will form an aquatic obstacle course.
The expansion also included the installation of two 240m long wakeboarding lines, the redesign of a toilet block, the building of a new reception building and the erection of a café on the site.