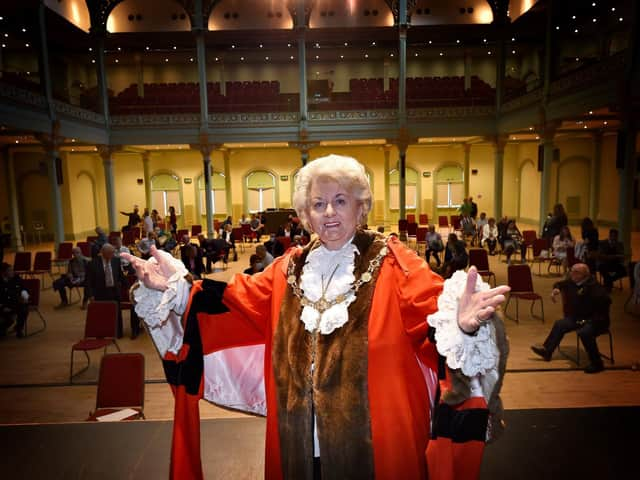 Former Mayor Lynskey at the lockdown heroes awards in one of her last official duties.
Cllr Hazel Lynskey, whose mayoral term ended yesterday, has left the party saying she could no longer be a member of the group and that she was not "popular" in its ranks.
Her resignation from the Tories had widely been expected by members of the authority once her term in office came to an end.
In her role as mayor during the past two years, Cllr Lynskey had twice voted in support of Labour leader Cllr Steve Siddons, who she described as "a good man doing a good job", when votes of no confidence in him as leader of the council were held. Cllr Siddons won both votes of confidence.
Former Scarborough Mayor Cllr Hazel Lynskey.
Earlier this month, she failed to cast a vote in favour of any of the councillors put forward by the Tories to be chair or vice chair of the council's committees for the coming year, instead mainly voting for members of the Labour and Independent coalition which runs the authority.
Speaking to the Local Democracy Reporting Service, Cllr Lynskey said: "I vote with my conscience and that does not make you very popular.
"I just find that in politics with some people at the moment that they have forgotten that we are working for the people of the borough.
"We are not working for ourselves, not for position and not for power."
The Scalby ward councillor declined to go into details about concerns she had with the Conservative Group and said that the focus of councillors should be on what they can achieve.
Scarborough Council will be scrapped at some point in the next two years, along the other six district councils in North Yorkshire, as part of the Government's Local Government Reorganisation project.
Cllr Lynskey, who had been a member of the Conservative Party for 20 years, added: "I am sorry for the people who voted me in as a Conservative in this area but they know that I am here and they know I will help them whenever I can but I cannot agree with some of the things that [the group] is doing."
"We only have two years left and what we should be doing is concentrating on doing everything we can for when we leave."
The Conservative Group has been approached for a response to Cllr Lynskey's resignation.
She becomes the fourth Conservative councillor to quit the group since the 2019 local elections.
It means Labour is now the largest group on the council with 13 seats followed by the Conservatives with 12.
The Independent Group has seven, the Yorkshire Coast Independents Alliance has five, the Cluster of Independent Members has four and the Green Party two.
Cllr Lynskey joins her fellow former Conservatives, Jane Mortimer and Helen Mallory in having no political affiliation.