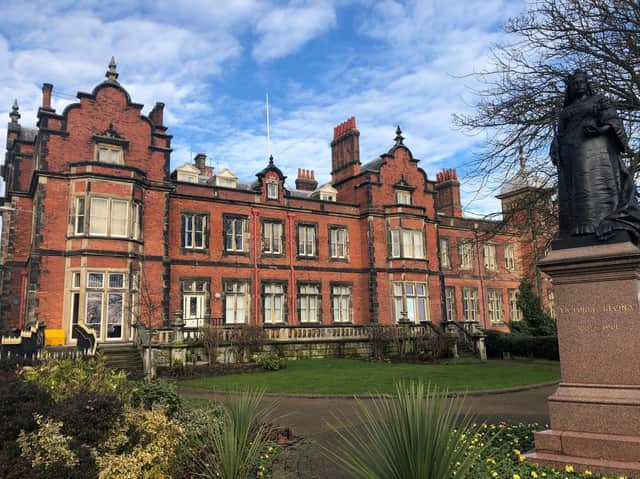 Scarborough Town Hall
During a cabinet meeting, members lined up to lay into the DBID company, calling on it to stop taking money from businesses that are struggling due to the pandemic and either show how it will change for the better or to scrap the project altogether.
The DBID is made up of more than 1,300 businesses in the tourism industry from Staithes in the north to Spurn Point in the south with a rateable value of more than £12,000, who have to pay a mandatory levy into the DBID, calculated at 1.5 per cent of their rateable value.
The 2018 ballot of businesses, which was run by Scarborough Council, was passed by a margin of 217 in favour with 175 against, on a turnout of just above 29 per cent.
However, it later came to light that 68 of the yes votes came from the councils involved in the process, including Scarborough Council.
At the cabinet meeting today Cllr Liz Colling, the authority's deputy leader revealed that the council had sought"expert legal advice" to see if it could force the closure of the DBID company, but had been told that it could not do so at this time.
Cllr Colling said: "This cabinet believes that the DBID should not be collecting levies for 2020/21 and they should not be chasing uncollected levies for 19/20."
She added that the company has the power to drop the levy to a nominal pound but it had chosen not to do so.
Cllr Colling continued: "We are very unhappy with the DBID company on a number of counts, primarily a failure of communication with our businesses, a lack of visibility and support for businesses throughout the Covid pandemic when it would not have been unreasonable for businesses to look to the DBID company to at least show some empathy and some practical solutions and no visibility on plans to support businesses through Covid recovery.
"However, I understand that yesterday they released some plans for activities, they were mainly for 2021 and I say that was too little, too late.
"I would say they need to engage much more with its plans to go forwards, indeed if it is to go forward at all."
Fellow cabinet member Cllr Michelle Donohue-Moncrieff said that she wished there was a "red button" she could press to make the DBID disappear.
She added: "Let's be clear here, they say that in a crisis it doesn't make or break somebody, it just shows who they really are and they have absolutely blown it.
"By all means, they should engage with businesses as they have got an awful lot of explaining to do to those businesses.
"I think they seriously need to consider whether they should be operating in the borough of Scarborough as I do not think their position is tenable."
She said that a programme of events for 2021 was too late and urged the company not to pursue people who have not paid the levy during the pandemic.
Scarborough Council is legally bound to collect the levies for the company from businesses in the borough.
Cllr Donohue-Moncrieff added: "How can anyone pursue businesses for these debts at this time?
"It's just morally wrong.
"Many of the businesses that will be forced to pay this levy won't be around in May 2021 and that is what is fundamentally wrong about this.
"This organisation really needs to have a long hard look at itself and whether it has any place in our borough but I just don't think it does anymore.
"It may have legal status but it has no moral right to operate in the borough."
Cllr Carl Maw said that the 2021 events revealed by the DBID were "things that would have happened anyway that they have tried to jump on the back of".
Leader of the council, Cllr Steve Siddons, addressed the company directly during the meeting, which was being streamed live on Youtube.
He said: "If the DBID listening to this they will understand the strength of feeling from members about the way they have operated and continued to operate and take note of it and come to the table and discuss with Overview and Scrutiny how they are going to improve it and publish what they are going to do.
"If they can't then I think it is time for them to go."
The councillors were discussing the DBID following a meeting last month of the authority's Audit Committee which examined the results of the Association of Electoral Administrators (AEA) review into the council's role in the ballot, the validity of which has been called into question by a number of businesses.
The report by AEA chief executive Peter Stanyon found flaws with the 2018 ballot process but concluded that "on the evidence presented to me I am satisfied that the ballot process was generally undertaken in accordance with the process prescribed by the [BID] regulations".
The council is to send Mr Stanyon's report to the Secretary of State for Housing, Communities and Local Government Robert Jenrick MP along with the concerns about the BID regulations.
The bills for the DBID levy are set to go out to businesses in the area in August.
The Yorkshire Coast DBID company has been approached for a comment.