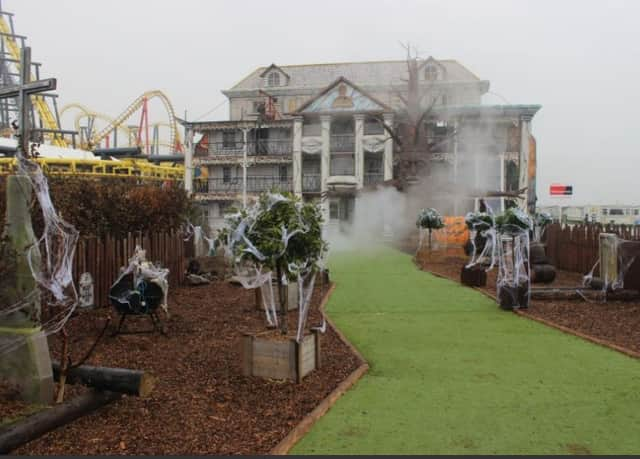 Mansion House is a family estate in the American Plantation style, untastefully decorated throughout in a style of 'decaying splendor'.
Comprising of Hall, Drawing Room, Kitchen, Scullery, Sewer, Tower, Cellar. The property also includes descending 'lift', and two exterior balconies providing lovely views of the graveyard.
The property is currently owned by an aristocratic family of Transylvanian descent and is on the market with Bairstow Eves for £150,000.Mansion House is holding viewings for visitors between 21st October and 5th November 2017 only!
Mr. P.S. Ycho, the seller of the Mansion House said: "We are delighted to welcome potential buyers to our estate and are looking forward to mEATing each and every BODY. Iwill be home to show people the extraordinarily bizarre aspects of our historical family home. I expect anyone who visits, will NEVER leave …"
Edward Mellors, Director of Fantasy Island, Ingoldmells said: "Mr. P.S. Ycho and his family own a wonderfully strange house next door to our Theme Park - Fantasy Island. There appear to have been many mishaps and miss fortunes there in the past for various people. We will watch with interest the amount of people who view the house, and do hope to see them again, as Fantasy Island becomes Fear Island this Halloween season…"Vicky Wood, Branch Manager at Bairstow Eves Skegness, said: "The Mansion is a great opportunity for fearless families and thrill-seekers to get together and enjoy the Halloween season. This might be the scariest property we've ever listed, so if you're feeling brave, come and take a tour."
To celebrate the launch of the Mansion, Bairstow Eves has announced a prize draw competition, whereby five lucky winners will be picked at random to receive FREE tickets to visit Fear Island and its latest spooky attraction.
Furthermore, Bairstow Eves is also offering a £250 reduction in fees for any customer who enters the competition and lists their own property for sale with the branch in the next 6 months.
Please enter here Mansion House, Sea Lane, Ingoldmells, PE25 1RH
Listing for entertainment purposes only as part of Bairstow Eves Fear Island campaign and competition dated October 2017. This property is fictional and not on the market for sale.