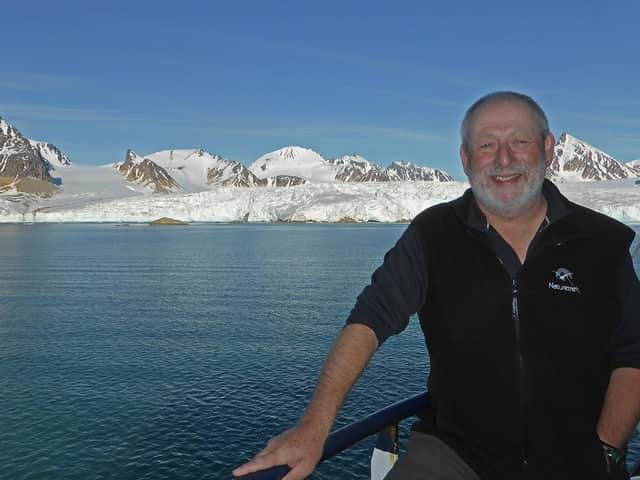 Peter Dunn leading a tour of Norway (photo: Naturetrek)
Peter Dunn, 65, was admitted to hospital over the Easter weekend suffering from back pain, and was diagnosed with cancer. However, he then tested positive for coronavirus and passed away on May 15.
The father and grandfather was a police sergeant in Scarborough until his retirement in 2001. He then spent over 20 years working as a wildlife tour guide for travel company Naturetrek, leading trips all over the world.
He was married to Kath and has a daughter, Jennifer, and two grandchildren, Rubi, six, and Amber, two.
Peter was a qualified bird ringer (photo: Naturetrek)
Peter was also a passionate birdwatcher who was chairman of Filey Bird Observatory. He was a qualified bird ringer and heavily involved in conservation and species monitoring on the Yorkshire coast.
Filey Bird Observatory's 150 members have now launched a Justgiving appeal to raise money to purchase a 'Heligoland' bird trap in his memory. The equipment would allow more birds to be trapped and ringed before being released.
So far, over £2,500 has been donated towards the £5,000 target.
The group said: "Peter had a full life being involved with Filey Bird Group and he also set up the East Coast Ringing Group. In his honour we would like to purchase a Heligoland bird trap for the ringing group to keep his memory alive.
"In the run-up to Easter weekend this year, Peter had a pain in his back which had been nagging for some time, but had worsened until he needed hospital treatment. Following a CAT scan, cancer was found with a tumour popping one of his vertebrae and also in two other places. Whilst in hospital he caught the Covid-19 virus which he fought with all his strength but, unfortunately, it overtook his body. Peter passed away at St Catherine's Hospice, Scarborough."
His employers Naturetrek have also supported the appeal and shared photographs of him leading tours to California, Antarctica, Norway and Spain.
In a statement, the company said: "Peter was a dear member of the Naturetrek family. He led our tours for nearly 20 years, sharing his love of birding and wildlife with many hundreds of our clients, leaders, staff and locals alike, from Yorkshire to both ends of the Earth and a great many places in between. We will always remember him as a deeply knowledgeable, kind, generous and patient colleague, tour leader and friend to us all.
"Peter was also one of the founding members of the Filey Bird Observatory, as well as a pioneer of bird ringing studies in Filey. He established a wide variety of ringing methods within the bird observatory, many of which are still being used to collect data today, and many of the ringers now operating at Filey were trained by Peter. All this ringing data helps to build a larger picture of bird migration, longevity, and survival, which in turn helps determine national trends and establish where conservation efforts and funding should be focused.
Peter Dunn in Antarctica (photo: Martin Beaton)
"One of Peter's dreams was to build a Heligoland trap within the observatory. A Heligoland trap would greatly increase the flexibility of the small ringing team and allow data to be collected when conditions are unsuitable for using mist nets (which is often the case in Filey). It would increase the number of birds, and the diversity of species, on which data is collected, helping to further bird conservation and strengthen the observatory's scientific observations.
"Filey Bird Observatory is a small, self-funded organisation with around 150 members, and projects of this magnitude are usually out of reach. Peter's family has set up a fundraiser in his memory, hoping to raise enough funds to turn Peter's dream into a reality; a fitting tribute to the legacy of all that he helped to create and build in Filey. We, at Naturetrek, have created this page to support their fundraiser, so that together we might offer a small token of thanks from all of us who were lucky enough to have worked, travelled and birded with Peter over the last 20 years.
"Since his first Naturetrek tour to Samos in Greece in 2001, many customers will have travelled on our holidays led by Peter, or encountered him in his beloved East Yorkshire where he was often to be found at Filey, Spurn or Flamborough. He will be remembered as a lovely, generous and warm-hearted man, as well as a model tour leader and accomplished birder and photographer, but above all, as a great friend to many.
"We would like to call all clients and leaders who have travelled with Peter over the years to share any images of him that you may have, and send them to [email protected] This will enable us to compile a full tribute to Peter, which will be published, along with an album for his wife, Kath, and family, to whom we send our love and condolences."