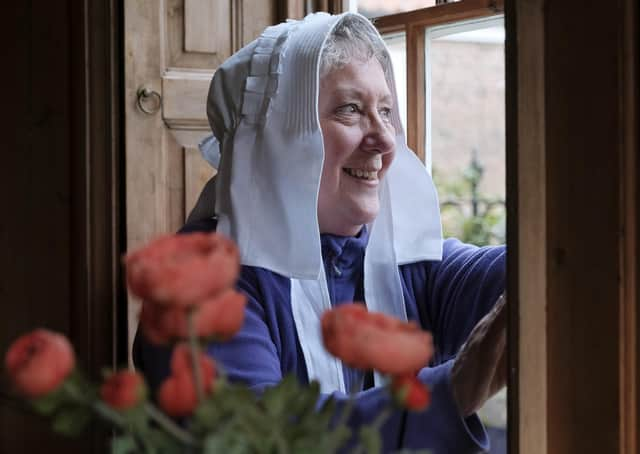 Staithes Bonnet Maker Jackie Verrill reflects on her unique craft. pic Richard Ponter
Jackie Verrill's family date back to the 1600s in the fishing village.
"The bonnets are unique," she said. "They have gone around the world over the years and I still get orders for them because I'm really the only one who still makes them."
"The bonnets have been worn by fisherwives for centuries to protect their heads and necks from rain as they carried the wooden boxes filled with freshly caught fish, on the harbour side. Even Queen Victoria wore a black one after the death of Prince Albert."
Jackie, the widow of a fisherman, said there are different styles for different occasions – floral prints for special occasions, black ones for funerals, and white ones for weddings and the style has remained unchanged for generations.
They have been made as a fashion accessory for holidays as well as for babies to protect them from the sun.
"I would like to see some young people in the village taking an interest in making bonnets to keep the traditions alive," she said. "Staithes and its bonnets are synonymous."
Today there are only a purple of fishing boats operating part time. "Staithes was once the biggest fishing port on the Yorkshire Coast because our boats are unique."
One of her biggest concerns is that local residents and young families can no longer afford to live in the old harbourside area because so many cottages have been bought as second homes.
Jackie, is an expert on Staithes life and its history, much of it passed down through her family since they moved to the village in 1645 when they returned too England from the Spanish Armada.
She is especially well-versed in its legend and superstitions.
"Fishermen who meet someone whistling in the street or saw a woman on their way to the harbour wouldn't go to sea, women were never allowed on boats and no woman went out without wearing a bonnet," she said. "One tradition still going strong is the knitting of fishermen's sweaters known as ganseys which can sell for as much as £400."
"With their individual designs which were used to identify fishermen lost at sea off the Yorkshire coast.
"Each harbour community had its own design to pin-point the place from which they sailed.