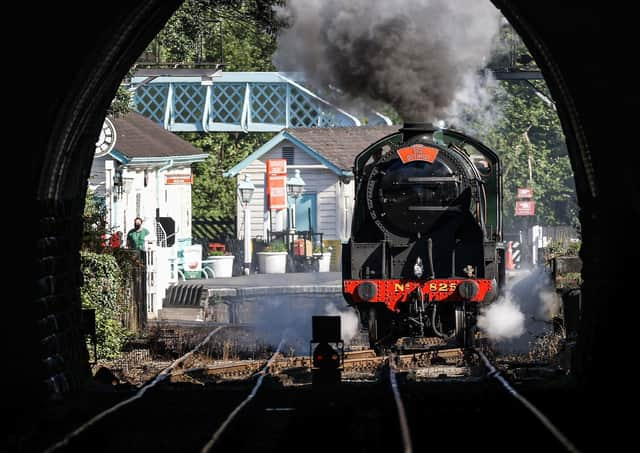 A NYMR steam locomotive heads into the Grosmont tunnel. Photo courtesy of Charlotte Graham.
As the vaccine programme is rolled out across the UK, we've had more than a few occasions of late to truly believe there is light at the end of the tunnel – pun intended.
When the pandemic and first lockdown hit us last Spring, we launched an emergency fundraising appeal; as a not-for-profit charity, it was vital to fill the void from lost ticket sales to ensure that the railway could operate as planned in the future.
Almost a year on, and our Crisis Appeal has been an incredible success – so much so that we've now closed it – the generosity of our members and the local community helping to raise an incredible £440,000, which will help get us back on our feet.
We've truly been blown away by the help and support – it's a great feeling to know how much people care. The railway was further supported by the NLHF (National Lottery Heritage Fund) as part of our YMJ project and was awarded £1.9m as part of the Government's £1.57bn Culture Recovery Fund administered by the Arts Council.
We have also been helped with the reassurance of backing by our bankers Santander as part of the CIBLS loan scheme.
Alongside appeals and extra funding, however, we've also had some incredible recent sales successes – results which would have been pleasing even without a pandemic to contend with.
Our online shop sales for the three months leading up to Christmas showed an incredible 408% increase year-on-year, while in November we celebrated Museum Shop Sunday in style with the most successful day of sales – ever! In one day we took more than double the normal online sales for the full month!
What's more, our renovated and recently re-opened Pickering Tea Room saw takings from last month's Santa Specials events increase by an incredible 147% year on year.
In addition to these positive figures, the team continues to work hard behind the scenes preparing for that day we get the green light to open once more.
For example, the team at Carriage and Wagon has been fitting new retention tank toilets and painting one of our historic carriages, giving it a new lease of life, and there is also so much happening with our locomotives at the MPD.
Steam locomotive 34101 Hartland and 75029 Green Knight are undergoing major boiler repairs and BR class 24 diesel locomotive 5032 Helen Turner is undergoing a major overhaul.
These are really encouraging signs, but that's not to say we're resting on our laurels – we know the next 12 months will be tough, but it's these green shoots which help drive us and our 1,000+ volunteers to do more.
As well as keeping the railway running, the NYMR is extremely important to the region, both economically and culturally.
There may be a few more bumps along the way, but together we can stay on track. All aboard!