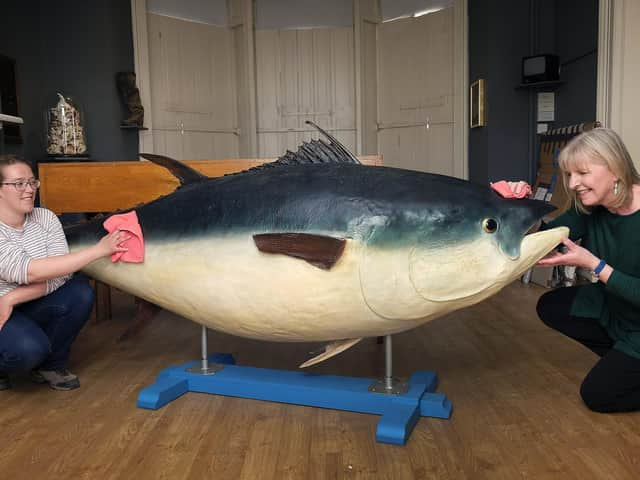 Charlotte Mundey and Jane Lowery prepare for one of the art gallery exhibitions
Scarborough Art Gallery is reopening with three new exhibitions that will run from May to September.
Andrew Clay, chief executive of the Scarborough Museums Trust, said: "We are absolutely delighted to be opening our doors again. This is a big moment for Scarborough Art Gallery, the Rotunda Museum and the Woodend Gallery.
"We have missed our visitors so much during the lockdown period so it will be super to be able to welcome people to our venues again.
Cassie Taal cleaning the exhibition glass the Rotunda Museum
"We have three fabulous new exhibitions and an abundance of objects on display, many of which haven't been seen for decades.
"There is a strong focus on the Scarborough Collection which will particularly appeal to local residents. We hope, by visiting our exhibitions, people will be able to tell us about their memories of Scarborough and life in one of the oldest holiday resorts in the world!"
One of the exhibitions on display is titled, Scarborough: Our Seaside Town, curator Esther Lockwood interviewed team members from Scarborough Museums Trust, which runs the gallery, asking for their unique personal views and recollections of life by the sea year-round before selecting items from the extensive collections at Scarborough Museums Trust.
Also being displayed from May 18 is Laughton's Legacies, a display of paintings from the collection of the late Tom Laughton, Scarborough hotelier and brother of the Hollywood movie star Charles Laughton. The exhibition seeks to shed light on the three women he married – Esmé, Isobel and Mary.
Paul Baines at front desk of the Stephen Joseph Theatre
The third exhibition, is titled Animal Hauntings, which combines collection objects and film to ask what, in times of environmental uncertainty, we can learn from the ghosts of animals past in order to create more solid future relationships with them and the natural world.
The Scarborough Maritime Heritage Centre will be opened by the town crier at 11am on Wednesday May 19. Visitors will be able to see former town crier Alan Booth's MBE and bells which were generously donated to the centre.
They also have a new exhibition that looks back at the boom years of Scarborough during the reign of Queen Victoria. This year marks 120 years since her reign ended in 1901. The exhibition looks at the huge growth Scarborough underwent during her reign, whilst acknowledging the poverty and social upheaval that accompanied it.
Mark Vesey, Chairman of the Scarborough Maritime Heritage Centre, said: "It feels really marvellous to be opening up again.
"It is a real sense of relief, we are looking forward to seeing each other and also welcoming back the public."
The Stephen Joseph Theatre reopens its doors to the public on Monday May 17, with the first live show taking place the following day.
The theatre will reopen with the first UK dates of a new tour of the highly acclaimed The Greatest Play in the History of the World, a one-woman show written by Ian Kershaw and performed by former Coronation Street and Broadchurch star, Julie Hesmondhalgh, from May 18 to 22.
The cinema reopens on Tuesday May 25 with a fortnight of Oscar-nominated films. First to be shown is the comedy classic It's a Mad, Mad, Mad World.
Eat Me Café will be open Mondays to Saturdays from 10am, with last orders at 6.30pm Mondays to Wednesdays, and at 7.30pm Thursdays to Saturdays.
The SJT's joint Chief Executives, Paul Robinson and Caroline Routh, said: "We can't wait to open our doors again to our wonderful audiences."
The Hollywood Plaza reopens on May 17. Manager Andrew Nesbit said: "I'd like to thank all of our patrons, both old and new, for the response we previously received, and we've also had, since announcing our reopening."
The opening films are Peter Rabbit 2 and A Quiet Place 2, special screenings of Godzilla Vs Kong and Mortal Kombat, the new Angelina Jolie thriller Those Who Wish Me Dead, and Cruella, the new Disney film.