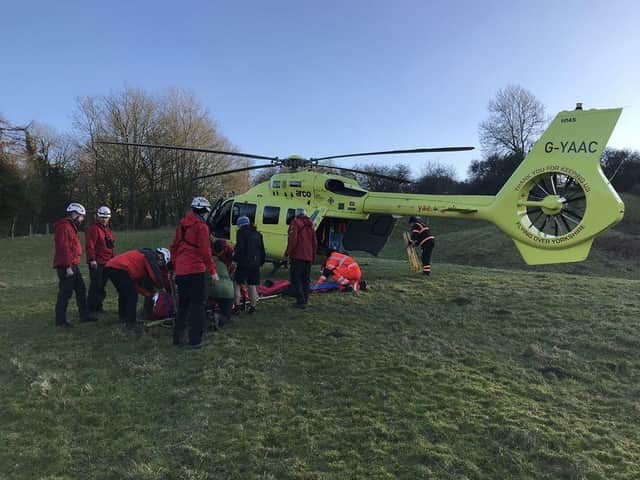 Photo: Scarborough and Ryedale Mountain Rescue team
The incident happened just before 1pm today on the path leading to the Mallyan Spout waterfall at Goathland.
Scarborough and Ryedale Mountain Rescue Team were called by Yorkshire Ambulance Service after the man and woman fell.
The man had sustained bruising to his chest and was suffering from cold, and his partner was complaining of severe back pain after falling across a rock step.
On its Facebook page, the mountain rescue team said the man was walked slowly back to the top of the path for more detailed assessment and warming in a team ambulance, while the woman was packaged in a team vacuum mattress before being carried by the team to the waiting Yorkshire Air Ambulance and a flight to definitive medical care.
The man was subsequently assessed by the Yorkshire Ambulance Service crew and deemed fit to leave the scene. The rescuers drove him to his car in Goathland village.
The rescue team adds: "Thank you to the Mallyan Spout Hotel who provided a warm drink for the gentleman and to the passing walking party who donated £40 to the team.
"Thank you to the Yorkshire Air Ambulance for making our carry out somewhat easier and more importantly the journey for the patient more comfortable and speedy."