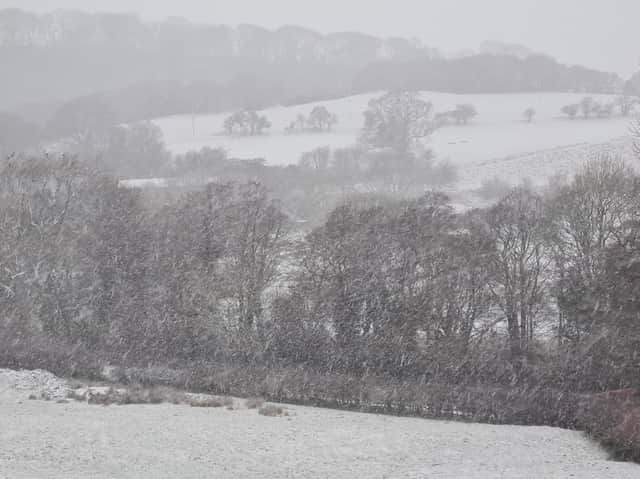 Snow is forecast for the weekend.
Two yellow warnings of adverse weather conditions covering the Yorkshire Coast have been issued by the Met Office for this weekend.
The first of the two is currently in effect and remains in place until 12:00 on Saturday February 6. It is as follows:
The area covered by the weather warning.
Heavy rain may lead to some flooding and travel disruption.
Flooding of a few homes and businesses is likely
Bus and train services probably affected with journey times taking longer
Spray and flooding on roads probably making journey times longer
Some interruption to power supplies and other services likely
Periods of heavy rain are expected across northeast England during Wednesday, Thursday, Friday and into Saturday.
Some large rainfall amounts are expected with 20-40 mm falling widely, and 60-80 mm in a few places, mainly on east-facing slopes.
Some drier interludes are also expected at times.
Following recent wet conditions, this heavy rain may bring some flooding, particularly to lowland areas, whilst higher ground is more likely to see snow.
On Saturday, snow becomes more likely than rain with time as conditions turn colder.
The second yellow warning is for snow and ice and comes into effect on Saturday February 6 at 15:00 and remains in place until 23:59 on Monday February 8
Cold conditions will persist through the weekend and into the following week with some disruption from snow and ice possible
There is a small chance of travel delays on roads with some stranded vehicles and passengers, along with delayed or cancelled rail and air travel
There is a small chance that power cuts will occur and other services, such as mobile phone coverage, may be affected
There is a slight chance that some rural communities could become cut off
A small chance that untreated pavements and cycle paths become impassable
Cold air will spread across the UK during the weekend with wintry showers likely to push inland into parts of England from the North Sea.
This is likely to bring areas of accumulating snow through the period with some icy stretches developing.
At this stage no single area can be highlighted as more at risk but given the coldness of the air disruption is possible at times.