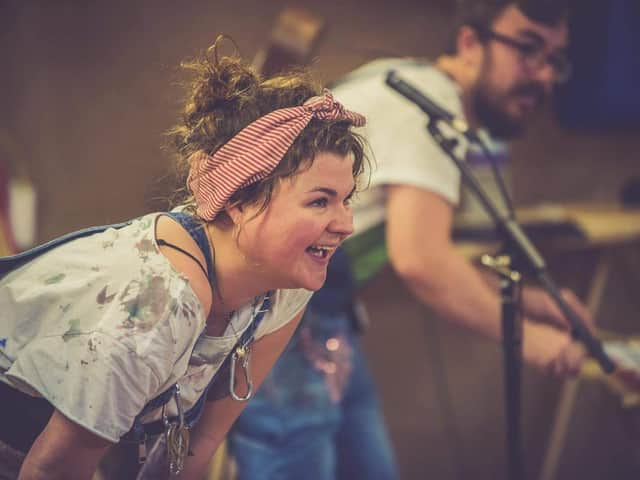 Kirsty Harris
The museum and gallery are closed at the moment, but strange messages have been appearing inside – who or what is making them? And what are they trying to tell us?
For six weeks from Tuesday May 12, young people – and their grown-ups – will be able to help uncover stories about some of the museum objects by completing online missions and challenges from their own home.
The online adventure, Whispers from the Museum, created by artist Kirsty Harris, will feature fictional young girl called George whose older brother Sam works at the gallery and museum.
George can't visit Sam: like everyone else, she's staying home. But Sam still sends her videos and photos of what he's been up to. Recently some very strange things have been appearing overnight in the museum.
To find out what's been going on, participants are invited to take part in exciting weekly missions. They can open the missions on their screen or print them if they prefer. Each mission will include simple creative projects, like art or writing, and when finished can be shared on social media. To access each new mission, those taking part will need to answer a simple question or solve a puzzle.
Kirsty Harris says: "Objects and paintings are sitting quietly within the walls of the museum. With no visitors to look at them and think about why they're so special, their meaning may begin to fade. But they're still there, full of stories and meaning and purpose. They can reach out to us, asking us to keep their stories alive.
"In a few short weeks, the world we know has become unrecognisable in so many ways. Hundreds of thousands of children are facing months of staying at home, with little real-life contact with the outside world and the inspiration it brings. It's a lonely prospect, and one that may leave many wondering about their place in the world."
Scarborough Museums Trust learning manager Christine Rostron said: "We're so pleased to be working with artist Kirsty Harris who has created a brilliant story using our buildings and collections as inspiration. This adventure will help children to reach out to and connect with the world beyond their front doors, into a world full of amazing objects and stories that will be waiting for them to explore physically again in the hopefully not-too-distant future.
"To take part families will need to be able to access the internet. It's probably best if an adult helps. Families will be encouraged to keep the things they make until the end of the project."
Whispers from the Museum is aimed primarily at young people aged seven to 11, although younger and older children will also enjoy the challenges. Free to take part, the first mission launches on Tuesday May 12 at www.scarboroughmuseumstrust.comKirsty Harris is an artist, designer and maker specialising in installation and performative works. She makes immersive worlds and experiences in found environments, landscapes and theatres. She has made work for babies aged 6 months and all the ages that come after.
Whispers from the Museum is the first of a series of new digital commissions from Scarborough Museums Trust as part of its response to the current coronavirus crisis. The Trust has asked a wide range of artists, including Lucy Carruthers, Estabrak, Wanja Kimani, Jade Montserrat, Jane Poulton and Feral Practice, as well as Kirsty Harris, to create digital artworks which will be released online across a range of social media platforms over the next four months.