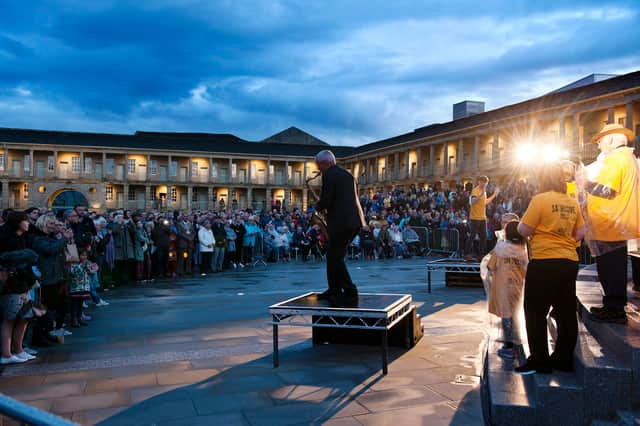 Three new buildings in Yorkshire are listed among the winners of the 2018 Royal Institute of British Architects' National Awards.
RIBA National Award-winning buildings set the standard for good architecture, and the Yorkshire winners of the 2018 Riba National Awards are as follows;
Albert Works, Sheffield, by Cartwright Pickard Architects
The architects are seen to have skilfully negotiated a clever design which seeks to balance the potentially conflicting demands of landlord and tenant. Using Construction Management Procurement allowed the developer client and end user to be jointly involved in key decision making regarding the design strategies, M+E systems, fitted furniture and finishes.
The Piece Hall and Calderdale Central Library and Archives, Halifax by LDN Architects
The jury noted that as a conservation project every stone has been carefully reviewed and repaired or replaced with appropriate restoration skills. But it is in the transformation of this building where the Design Team and clients' ambition stands out.
Old Shed New House, North Yorkshire by Tonkin Liu
As the architects themselves say: "The house is a journey of interconnected spaces that alternate between the grand and the intimate..... it is part country cottage, part classical villa"
RIBA President Ben Derbyshire said: "For over 50 years the RIBA Awards have celebrated the best new buildings, large or small; shining a light on trends in the construction industry, and illustrating why the UK's architects and architecture have an enviable global reputation.
"I am particularly pleased to see some excellent examples of large-scale housing schemes amongst this year's winners. Projects such as these are beacons showing how it is possible for enlightened local authorities and developers to create the well-designed, desirable and sustainable homes that communities so desperately need.
"From exceptional mixed-use buildings that bring a community together, and breathing new life into dilapidated historic buildings, to getting the best value from an awkward site or limited budget, every one of this year's award winners is a testament to the architects' skill in solving a range of challenges to create projects that will inspire and delight their users and communities for years to come."
The shortlist for the coveted RIBA Stirling Prize for the UK's best building of the year will be drawn from the 49 award-winning buildings.