Multi-day hiking backpacks: rucksacks with 40 litre capacity and more, from Vango, Montane, Salomon
Comfortable, well-built hiking backpacks, with compression straps and excellent weight-distribution, for all your hiking trip adventures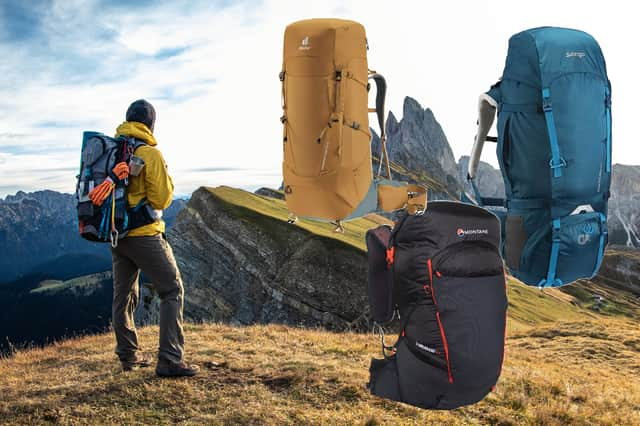 This article contains affiliate links. We may earn a small commission on items purchased through this article, but that does not affect our editorial judgement.
After a robust, reliable rucksack to take on back-packing adventures, be you climbing mountains, hitting European hostels, or walking across country? There's a backpack to suit your needs in our handy guide.
What size backpack do I need?
The main factor to keep in mind when shopping for a new hiking backpack is size. Backpacks are measured by the capacity they hold in litres – usually a 15l-30l backpack is called a daysack or daypack, which as the name suggests holds the kit you need for one day's walking adventure.
This article is focussing on multi-day trips ranging from two days to indefinitely - when your usual daypack won't cut it and you'll be require a backpack with a capacity of 40L or higher.
Now you need to consider what you will be taking on your adventure. If it's simply clothing, a change of boots and toiletries, a 40 to 45L backpack should just about cut it. If you're plotting a multi-day trek that will require a sleeping bag and tent to the equation, you'll need to opt for something with a capacity as high as 70L.
Best hiking backpacks at a glance
What features should I look for?
You're not on your Bronze Duke of Edinburgh anymore,and comfort is likely a priority, so opt for a pack that has extra padding on the backpanel, shoulder straps and hip belt.
Backpacks are usually either top loading (an opening at the top, which is more watertight and best for hikers) or front loading (these are easier to pack and unpack, ideal for backpackers).
Other useful features to look out for include easy-to-access zipped inner and outer pockets for valuables and mesh pockets for water bottles, plus compression straps for cinching a bag down to make it more compact.
If you're off travelling you may want to pick a model with a removable mini rucksack, so you have a smaller daysack to use on day hikes.
You can save yourself frustration by selecting a pack that is well equipped with ample pockets and an easy-to-access main compartment, particularly if you're travelling for an extended period of time.
Style should come last. If you're limited to shades of nasty green and garish orange at least it will be easy to spot on the baggage carousel.
Get kitted out for all of your hiking adventures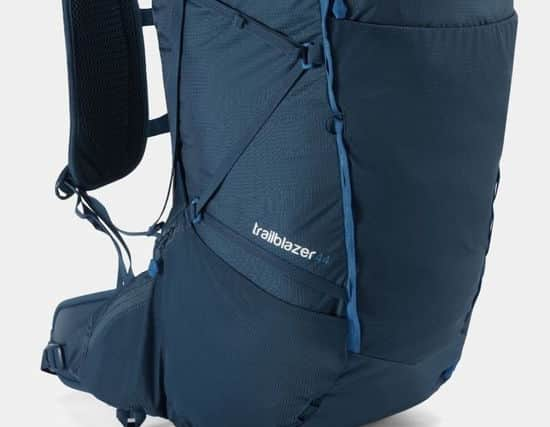 Key specs: weight: 995g; colours: 2.
Ludicrously lightweight without surrendering durability and practicality we love this backpack from Montane.
The 44L capacity allows for sufficient space for food, hydration and mountain essentials. We're big fans of the Covalent harness which hugs the body but doesn't restrict movement.
This would be a great option for anyone undergoing a tent-free, multi-day hike in Scotland or the Lakes.
Key specs: weight: 2.4kg; colours: 2
Travel the world in comfort without breaking the bank with this great value offering from Scottish manufacturer Vango.
Despite its low price the Contour comes with a fully adjustable back system that allows you to change the distance between the shoulder and hip straps to ensure optimum comfort.
Top and bottom pockets along with multiple internal pockets make for faff-free packing and unpacking, leaving you with one less excuse for your late hostel checkout.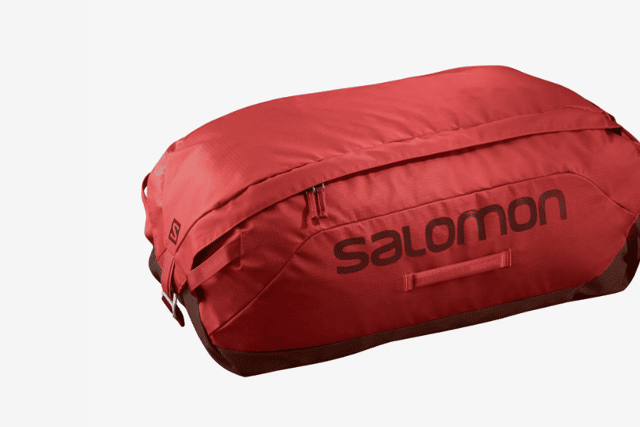 Key specs: weight: 1.1kg; colours: 6
Space isn't at a premium with this robust and commodious duffel bag from Salomon, making it great for adventure sport enthusiasts overloaded with equipment.
The duffel's ripstop fabric, metal buckles and robust waterproof zips all stood the test of rough terrain during several climbing outings in the Highlands.
We appreciated the external compartments for stowing away used clothing and muddy shoes.
Padded backstraps mean it is also a solid option for short to medium getaways abroad.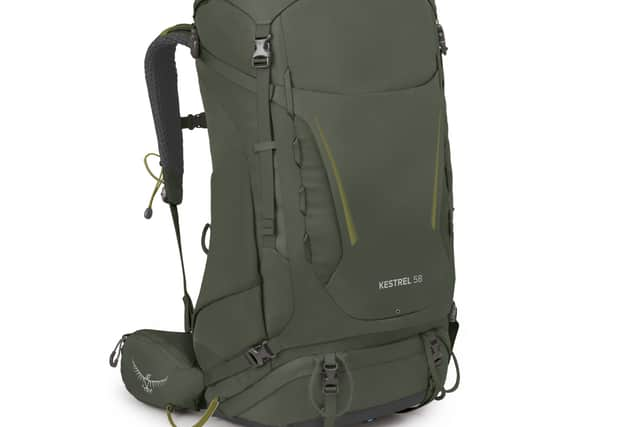 Key specs: weight: 1.8kg; colours: 2
The backpack kings continue to deliver high end rucksacks popular with hikers, climbers and commuters alike.
The Kestrel 58 could comfortably hold our sleeping bag (and then some), while the front mesh pocketwas ideal for stowing away miscellaneous hiking goods from OS maps to climbing shoes.
We tested the pack's capacity to its limits and were pleasantly surprised to find that the "LightWire" peripheral frame continued to provide ample comfort while the AirScape back panel kept us well ventilated.
Key specs: weight: 3.6kg colours: 3
Fjallraven have a knack for delivering on both style and substance, and the Kajka 65 is no different.
We found the Perfect Fit Adjustment System easy to use, adjusting it to the size of three different hikers with ease. The chunky hip belt provided welcome comfort during our long distance trek.
We were also big fans of the wet and dry compartments which came into their own during changeable weather conditions.
The weight and cost may be offputting to some, though if the pack is as durable as Fjallraven's other offerings you won't be buying a replacement any time soon.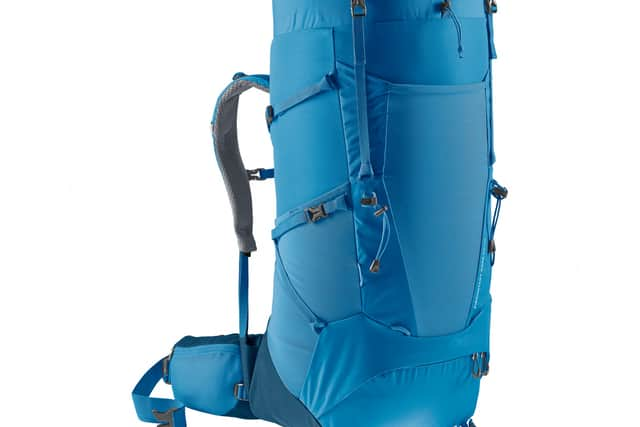 Key specs: weight: 1.7kg; colours: 5
With its excellent ventilation system and anatomically shaped frame this is a thru-hikers dream.
During a camping weekend we felt the benefit of the breathable padding which with every step circulates air through the cushions of the body contact system.
The body hugging hip fins and X-frame ensured stability and an even distribution of weight despite us overpacking the bag.
A minor complaint would be the positioning of the external pockets, which are difficult to reach when trekking - hardly a convenient place for storing your GPS, phone or compass.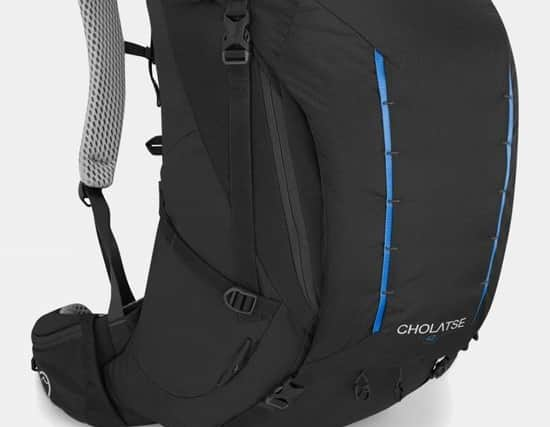 Key specs: 1.7kg; colours: 2
On a mountainous bothy-to-bothy hike we were not left wanting with the feature-rich Lowe Alpine Cholatse.
Though its capacity is listed as 42:47, Lowe Alpine's clever use and positioning of pockets made it feel like a pack with a capacity over 50L. We were particularly appreciative of the internal stash pocket which could hold our bulky down jacket and lunch box.
During an accidental detour through a patch of brambles the pack's ripstop material did its job and the pack still appeared shop-bought fresh.