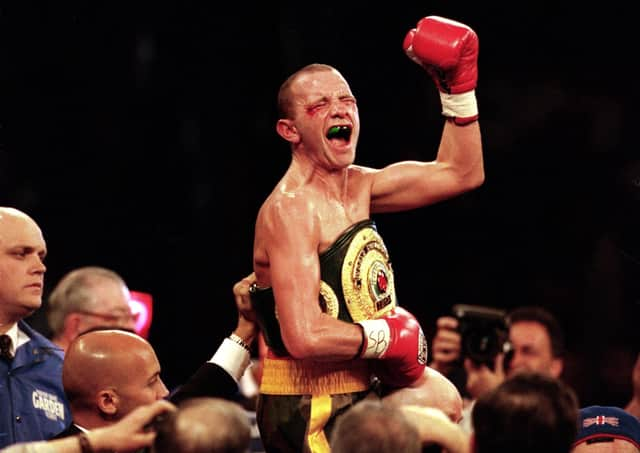 29 Apr 2000: Paul Ingle celebrates after winning the fight against Junior Jones at Madison Square Garden, New York. Ingle defeated Jones in a knock out in the 11th round. Mandatory Credit: Ezra O. Shaw /Allsport
During a three-decade spell operating at the very top of the sport, the 67-year-old guided four different British fighters to world titles.
Known back then as Frank, the Londoner's greatest achievement – on paper – was overseeing Lennox Lewis's rise to the position of undisputed heavyweight champion of the world.
Yet, according to Maloney herself, in terms of the scale of what was accomplished, helping a relatively unheralded featherweight from the North Yorkshire town of Scarborough to the pinnacle of the division was even more special.
29 Apr 2000: Paul Ingle of England and Junior Jones of Brooklyn, NY slug it out at Madison Square Garden in New York City. Ingle won by TKO in the 11th round. Mandatory Credit: Al Bello/ALLSPORT
Ingle actually became a world champion for the first time in November 1999 when he claimed Mexican Manuel Medina's IBF belt at Hull Arena, but today marks the 20th anniversary of the biggest night of his career and the moment that he truly announced himself on the biggest stage of all.
On April 29, 2000, the 'Yorkshire Hunter' successfully defended his IBF crown, while at the same time going on to win the IBO title, by stopping New York's Junior Jones in his own backyard – Madison Square Garden – the "Mecca of boxing".
"Helping Paul become a world champion was one of my greatest achievements, more of an achievement than what I did with Lennox Lewis," Maloney reflects.
"Everyone expected Lennox to do it because of his pedigree and him being an Olympic champion. I would have been the laughing stock of boxing if we hadn't won that title.
TOP PROMOTER: Lennox Lewis flanked by his manager Frank Maloney back in November 1999.
"I had Paul from day one. There was no pressure with him. He was this young guy from Yorkshire, a really lovely boy, and we got there.
"He'd already beaten Medina, but that was in Hull. To get him fighting Jones in New York on the same bill as Lennox [vs Michael Grant] was special.
"It was amazing to have two British fighters in Madison Square Garden on the same night, both with large away followings, both up against local fighters and both of them ending up winning.
"Pulling that off was another of my biggest achievements. It was a magical moment."
WATCHING ON: Kellie Maloney Picture: Getty Images
Ingle completed the first part of that memorable British double by stopping Brooklyn-born Jones in the 11th round of an action-packed encounter.
Despite a significant height and reach disadvantage, the Scarborian out-boxed his opponent for large periods of the contest, however he had to overcome a number of hurdles on his way to victory.
A hostile home crowd baying for Ingle's blood was to be expected. That two of the ringside judges would be natives of New York and the other from neighbouring Massachusetts came as more of a surprise. Maloney was left outraged.
The expected bias from the local judges meant that there was now added pressure on an already unhappy Ingle to stop Jones and ensure that his fate could not be decided by the scorecards.
"In the dressing room, Paul wasn't happy," Maloney adds.
"He was someone who did sometimes struggle with making weight and he'd had to maintain his weight that week [due to the weigh-in not taking place until the day of the bout].
"We feared the way the judges would score it and it was stressful, but Steve [Pollard – Ingle's trainer] did a great job with him.
"I explained to Paul that this was boxing on the world stage. He wasn't fighting in Scarborough where we would have been able to control certain things.
"The whole world was looking at him and he just had to go out and there and get on with it."
Those words from Maloney and the late Pollard obviously had an impact. Ingle came out and took the fight to Jones, his trademark tireless style to the fore as he negated his opponent's height and reach advantage by slipping inside and consistently landing effective blows from close range.
The Yorkshireman appeared in control of the contest, but disaster then struck when he was knocked off his feet by a brutal right hand midway through round nine.
"Any boxer who gets hit right will go down, but I wasn't too worried," Maloney says.
"I knew that he'd trained extra hard with Steve and also learned a lot from spending time working with Lennox in his camp and seeing how he prepared.
"He'd also learned from the mistakes he made when he lost to [Prince Naseem] Hamed the year before and you could see that in the way he reacted to being knocked down.
"He showed such determination to win that fight. True grit. In the end he came through with flying colours.
"Paul never sought the glitter and the glam, but Madison Square Garden is the Mecca of boxing and the magnitude of the occasion lifted him up.
"I rate that performance as one of his best and I remember thinking to myself at the end of the fight 'this kid is going to go on and rule this division for a long time'."
Tragically for Ingle, he suffered a serious brain injury during a loss to Mbulelo Botile in his very next fight and although his career ended there and then, nobody can ever take that glorious night in New York away from him.
Editor's note: first and foremost - and rarely have I written down these words with more sincerity - I hope this finds you well.
Almost certainly you are here because you value the quality and the integrity of the journalism produced by The Yorkshire Post's journalists - almost all of which live alongside you in Yorkshire, spending the wages they earn with Yorkshire businesses - who last year took this title to the industry watchdog's Most Trusted Newspaper in Britain accolade.
And that is why I must make an urgent request of you: as advertising revenue declines, your support becomes evermore crucial to the maintenance of the journalistic standards expected of The Yorkshire Post. If you can, safely, please buy a paper or take up a subscription. We want to continue to make you proud of Yorkshire's National Newspaper but we are going to need your help.
Postal subscription copies can be ordered by calling 0330 4030066 or by emailing [email protected] Vouchers, to be exchanged at retail sales outlets - our newsagents need you, too - can be subscribed to by contacting subscriptions on 0330 1235950 or by visiting www.localsubsplus.co.uk where you should select The Yorkshire Post from the list of titles available.
If you want to help right now, download our tablet app from the App / Play Stores. Every contribution you make helps to provide this county with the best regional journalism in the country.