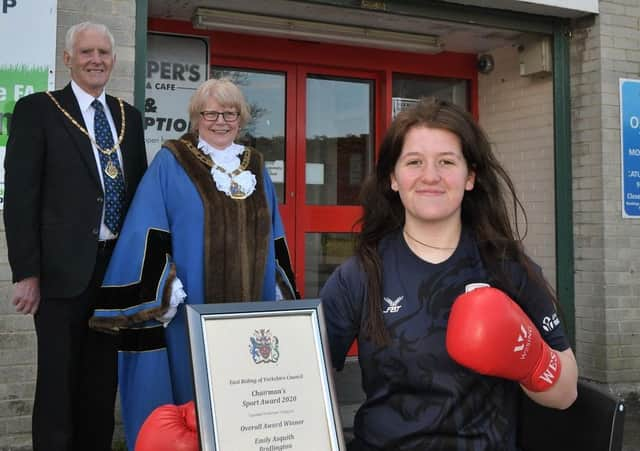 Boxer Emily Asquith received her award from council chairman Pat Smith.
Emily Asquith was victorious in the Sport – Talented Performer category and was presented with her accolade in a covid-secure ceremony.
Chairman, Councillor Pat Smith, and her husband Ian, presented the award to the talented boxer.
Emily has been boxing for five years, trains four nights a week and undertakes sessions before school. She trains with the England team on a monthly basis and is a member of the excel squad.
She was called to attend an emerging talent squad for the GB Squad and is the youngest person England have selected for this type of training. Emily has achieved a lot this year including European Youth Gold Medal and won gold at the Sombor Nations Box Cup.
Emily said : "It's an honour to be recognised for the hard work I've put in by the East Riding of Yorkshire Council.
"To have won this award in an area full of very talented athletes feels like a great achievement."
The annual presentation of the awards celebrates individuals, businesses, building projects and community groups which have made a significant contribution to improving life in the East Riding.
Councillor Smith said: "This is our chance to thank and to honour those people all across the East Riding – businesses and organisations large and small – who contribute a huge amount, and often go the extra mile, to promote the area as a great place in which to work and to live."