Whitby sports therapist Towey rubbing shoulders with boxing elite at Tyson Fury's Las Vegas camp
Whitby's Matt Towey is rubbing shoulders with the boxing elite as part of Tyson Fury's camp ahead of his huge rematch with Deontay Wilder next month.
Thursday, 30th January 2020, 1:35 pm
Updated
Thursday, 30th January 2020, 1:36 pm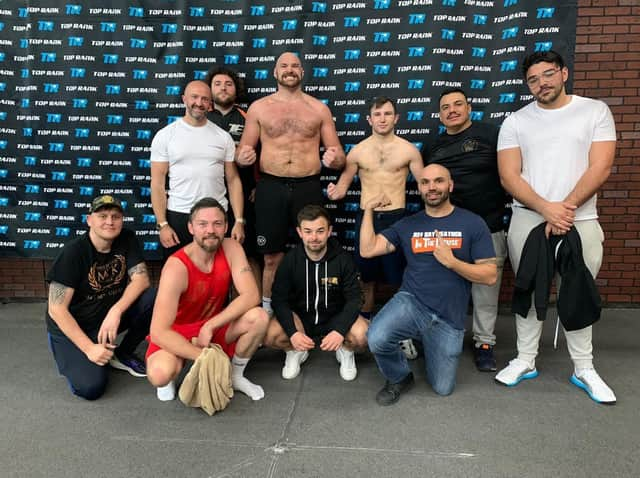 Whitby sports therapist Matt Towey (front centre) with lineal heavyweight champion Tyson Fury (back row third from left) and the rest of the team in Las Vegas
Sports therapist Towey, 25, started working with lineal heavyweight champion Fury after being introduced by one of his clients, Isaac Lowe, also a professional fighter.
Towey is currently in Las Vegas with Fury and the rest of his team as they step up preparations for the fight at the MGM Grand in Las Vegas on Saturday February 22.
The former Stakesby School, Caedmon School and Whitby College student said: "I have worked with Tyson since April 2019 leading up to his fight with Tom Schwarz.
"I first met Tyson through his training partner and best friend Isaac Lowe, I went up to Tyson's house to do a treatment session with him and he asked me if I'd like to come to Vegas for two months with him."
Towey is responsible for Fury's stretching, mobility and sports massage in his camp.
"Training camp is going really well, Tyson is training very hard for the fight," said Towey.
"We are all in the same house just outside of Las Vegas.
"Being involved is absolutely amazing, some days I look around and realise how lucky I am to be in this position at such a young age."
The Whitby sports therapist, who played football for Fishburn Park and cricket for Whitby Cricket Club, will be ringside at the MGM Grand on fight night and is expecting Fury to win against WBC champion Deontay Wilder.
"I will be ringside I'm pretty sure," he added.
"I can't see anything but a Fury win, he won the first fight I thought and can't see him losing this one either."
Towey, who also works with WBO middleweight world champion Billy Joe Saunders, is hoping to continue working with Fury after his rematch against Wilder.
"I would like to think I will keep working with Tyson," he said.
"We have a good working relationship, but I'll just take it one fight at a time."
Towey has been delighted with the reaction from his family, friends and the town of Whitby when news of his new role broke as a video of Fury receiving a massage from him went viral.
He added: "The reaction has been amazing.
"I've had dozens of messages wishing me well which is always nice.
"After the video of Tyson responding to Anthony Joshua offering to spar with him I was getting tagged in the video on social media a lot."
"My family are extremely proud of me which is nice knowing I'm making them proud and I hope that I'm making the town of Whitby proud also."