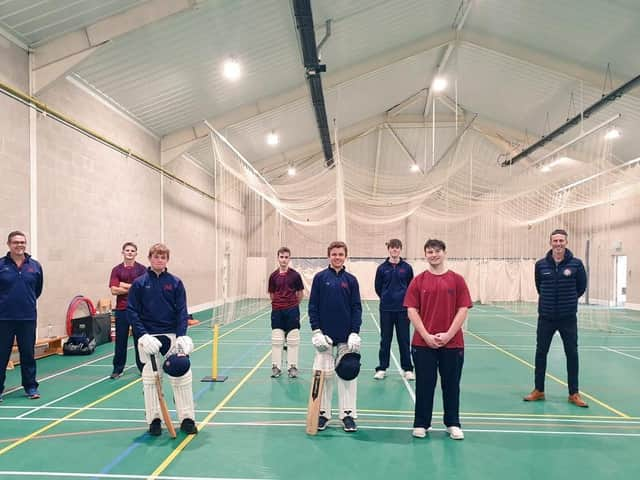 Graham Onions (back right) has joined the Scarborough College Cricket Centre of Excellence
The former England and Lancashire fast bowler will join the college for two days a week and will balance his coaching with a role at Lancashire.
Onions told The Scarborough News that although it's different to being in a professional environment, he's looking forward to getting stuck in with the group.
He said: "It's been a really good start at the college and I've thoroughly enjoyed working with the group of players.
"Following my sudden retirement, I was really keen to get into coaching and after talking to Guy Emmett and seeing the facilities, I saw it as a no brainer.
"Matt Parkinson put me in touch with the college and ever since I've started, the talent of the players has really shone through."
Having made his second XI debut for Durham at the age of 18, Onions went on to win three County Championship titles before moving to the red rose and he's hoping to pass on his knowledge to the current players at the college.
"Cricket is massive for the town and I've had many battles at North Marine Road," he added.
"I grew up playing club cricket and I'm looking to help the players so that they are prepared for any challenges they might face.
"I'm looking to give every single player the opportunity to progress and be the best that they can be.
"Fundamentally my goal is to use the 16 years of experience, the ups and downs, and the constant battles throughout my career to give them the best opportunities to learn."
Getting over the bitter disappointment of retiring was difficult for the new coach, but he's glad to be continuing in the game that he loves.
He added: "It's taken some time, but I feel like I'm in a good position and the future is definitely bright.
"I'm extremely fortunate to have these opportunities and although I'll never play again, I'm glad that I'm still involved in this capacity.
Scarborough College's Director of sport Brett Cunningham believes that it's an 'absolute honour' to have such a prestigious player at the college.
Cunningham said: "We're delighted to have Graham involved with the cricket centre and I'm sure he'll help develop our players and offer his expert advice over the coming weeks."