BECKETT LEAGUE ROUND-UP - Max Fraser hammers 180 as Great Habton beat Cayton 2nds
Max Fraser's stunning 180 helped Beckett League Division One leaders Great Habton to a 173-run victory at Cayton 2nds.
Monday, 21st June 2021, 11:56 am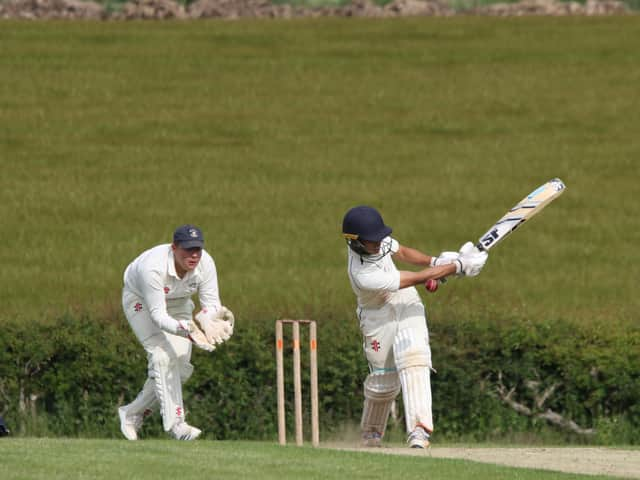 Wold Newton hit out in their loss at home to Wykeham 2nds PHOTO BY TCF PHOTOGRAPHY
Fraser smashed 23 fours and four sixes as he and John Lumley, 89no, shared a huge third-wicket stand of 291 as racked up 308-3.
Cayton then made 135-8, Jordan Allanby taking 3-11.
Folkton & Flixton 2nds lost top spot after their 80-run loss at home to third-placed Heslerton, Kristian Wilkinson smashing a massive 165no for the victors.
Wilkinson crashed nine sixes and 21 fours in his ton as Heslerton amassed 272-6.
Jack Walmsley top-scored with 43 in reply as Flixton were dismissed for 192, Mark Dring taking 5-40.
Thornton Dale won by 27 runs at Wykeham.
Sam Stephenson (28) and Tim Hunt (27) helped Dale to 158-9, with Ian Thompson taking 4-29.
Wold Newton v Wykeham 2nds PHOTO BY TCF PHOTOGRAPHY
Opener Ezra Pashby (46) did his best in reply, but Gareth Hunt's stunning 6-20 saw the hosts all out for 131.
Sewerby eased their relegation fears with a 54-run win at rivals Forge Valley.
Mike Artley's brilliant 76, allied to Issac Coates' 55 and Dan Artley's 51 fired the visitors to 249-7, Shaun Topham claiming 3-45.
Teenager Harry Pinder hit 44, while dad Sean added 40, as did Chris Reddish, as Valley were all out for 195, Ted Traves and William MacDonald taking three wickets each.
Wold Newton v Wykeham 2nds PHOTO BY TCF PHOTOGRAPHY
Sherburn kept their promotion hopes alive with a tense eight-run triumph at home to lowly Settrington.
Daley Wharton's 44no, allied to Connor Miles' 28 steered the hosts to 155-9, Rollo Storey taking an excellent 6-33.
The visitors looked to be in pole position at85-2, but after the dismissal of Richard Reynolds (50) no-one offered skipper Stephen Beal (56no) any assistance, Chris Crawford bagging 4-21.
Division Two leaders Fylingdales won by three wickets at strugglers Ganton.
Ian Cousins hit 45 as the hosts were all out for 124, Mark Estill and Tom Shrimpton scooping three wickets each.
Shrimpton then steered dales to the win with 43no after they had slipped to 76-7, Edward Bradley taking 4-30.
Second-placed Ebberston 2nds kept in touch with Dales with a six-wicket success at lowly Grosmont.
David Bowes hit 76, Richard Brown 54 and skipper Arron Liddle 44 as Grosmont posted 264-8, then Tom Holmes hit a fine 71, Rich Ward 65 and Mike Horsley 45 as the visitors chased down the score.
Paul Marton's unbeaten 53 helped Scalby 2nds earn a two-wicket victory at Seamer & Irton 2nds.
Adie Hollingsworth (4-34) limited Seamer to 170-7, Matty Sheader top-scoring with 37.
Tom Greenwood (3-35) gave Scalby some early problems and they needed Marton to see them home.
Wykeham 2nds won by 19 runs at rivals Wold Newton.
Sam Colling top-scored with 39 as Wykeham posted 154-8, then 10-man Newton were dismissed for 135, Colling and Ethon Pashby grabbing three wickets each.
Mathew Atkinson's 40 was in vain for the home side.
Luke Spenceley was the all-round star as Mulgrave 2nds won by seven wickets at home to Snainton.
Spenceley took 4-10 and Dominic Ingham 3-30 as Snainton posted 105-9, then Spenceley hit 25no and Simon Kipling 29 as Mulgrave won.
Jack Allanson shone with bat and ball as Glaisdale won by seven wickets at Division Three promotion rivals Scarborough RUFC.
Allanson took 4-30 as the hosts slipped to 96 all out and then his 38no sealed the win.
Great Habton 2nds stay top despite a 57-run home loss against Nawton Grange 2nds.
Jack Campbell-Carter's excellent 5-23 pegged Grange back to 141-9, Anton Wessels hitting 33, and Habton then slipped to 84 all out.
Ravenscar's promotion hopes dipped after their eight-wicket defeat at Filey 2nds.
Ben Robson bagged 3-27 as the visitors limped to 118-8, Shaun Bayes hitting 26.
Aaron Howard (43) and Stu Neilson (41no) fired Filey to the win.
Ten-man Folkton & Flixton 3rds lost by eight wickets at home to Muston.
Dan Virr hit 32 as Flixton slumped to 97 all out, Brad Gregory taking 3-45.
Tom Sander's unbeaten 44 saw Muston home.
Malton & Old Malton 3rds' Nick Lock hit 65no as they won by 90 runs at home to Pickering 3rds.
Flamborough's Harry Burton took an astonishing 6-2 as the Division Four leaders skittled hosts Goathland for only 18 runs.
Marcos Brown-Garcia took 4-16 as the hosts were skittled in only 9.1 overs, the runs being knocked off in 8.5 overs.
Second-placed Bridlington 3rds dug deep for a two-wicket win at Scalby 3rds.
Opener Luke Calvert's 66 helped third-placed Forge Valley 2nds win by 85 runs at Thornton Dale 2nds.
Jamie Toal added 26no as Valley posted 156-9, Andy Hill taking 3-25.
Tom Knight then snapped up 3-14 and Aaron Kaye 3-17 as Dale slipped to 71 all out.
Jay Wilson smashed a cracking 89 and Phil Holden a brilliant 87 as 10-man Brompton 2nds hammered hosts Ravenscar 2nds by 107 runs.
Anthony White took 4-68 for Ravenscar as Brompton posted 220-8, and the home side limped to 113-7 in reply.
Dean Foxton's 63 steered Sherburn 2nds to a seven-wicket win at Cayton 3rds.
Nick Dobson took an excellent 5-22 as Cayton posted 115-8, then Foxton sealed the win.