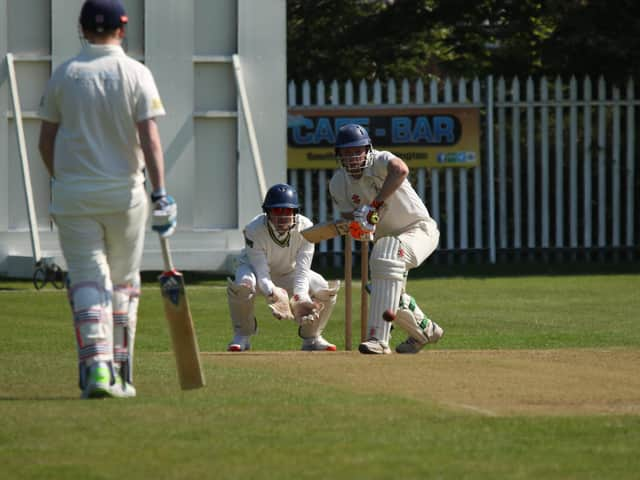 Bridlington 2nds v Seamer PHOTOS BY TOM FYNN
Ryan Baldry took 3-29 as Scalby posted 154-9, mainly thanks to Nicholas Austin's unbeaten 45 at number nine, sharing an eight-wicket stand of 82 with Brett Cunningham (38) as they rallied from 61-7.
Brad Walker had earlier hit 34 for Scalby
Off-spinner Austin also shone with the ball with 3-2 and Paul Hesp took 3-12 as Filey collapsed to 41 all out in 22.4 overs.
Bridlington 2nds v Seamer PHOTOS BY TOM FYNN
On Monday, Filey's batsmen recovered to post 216-8 and then dismissed Ebberston for 158.
Scalby slipped to a six-wicket defeat at home to Brompton on Monday.
Lachlan Cooke (52) and Jon Barton (32) helped the hosts to 169 all out, Tony Hulme taking 4-39.
Tom Bruce's 79 then steered the visitors to victory despite 3-40 from Cooke.
This capped a fine weekend for Brompton, who had held on for a five-run victory at Mulgrave on Saturday.
Bruce again led the way with 59 and skipper Tom Pateman added 26 as the visitors posted 147-7, Chris Knight scooping 3-12.
Michael Thompson's superb 4-15 in 10 overs and Aaron Fox's 3-51 helped dismiss Mulgrave for 142 in 43.2 overs.
Knight hit a fine 61 and captain Craig Thompson 34 but failed to save the hosts.
Staithes are in top spot after two wins over the weekend.
On Saturday they eased to a five-wicket home win against Cayton, Simon Bowes taking 3-10 and Stuart Theaker as Cayton were dismissed for 88, Tom Ward top-scoring with 20no.
Stu Pickard's 3-24 had Staithes in trouble at 24-4, but Bowes (31) and Gary Sivills (30no) steered the hosts to the win.
On Monday, Staxton conceded their game at Staithes.
Cayton were also able to claim full points on Monday as Cloughton conceded their match as well.
Ebberston had strolled to a nine-wicket home win against Cloughton on Saturday.
Sam Hardie took a cracking 5-36 and James Boyes an excellent 4-24 as the visitors were all out for 123, Paul Virr hitting 32 and Ben Rowe 31.
Jon Mason (52no) and Michael Hirst (47no) guided Ebberston the win.
Bridlington 2nds worked hard for their two-wicket success at home to Seamer & Irton on Saturday.
Tom McMeeken's outstanding 5-17 had Seamer reeling on 21-7, but an excellent 82 from number eight Gaz Lawton, along with 26 from number 10 Adam Morris helped Seamer rally to 151.
Brid also lost early wickets, but Matthew Fudge (32) and Jack Ibbotson (31) settled things down despite a canny 3-14 from Matty Morris.
Elliot Traves' unbeaten 59 then steered Brid home despite a late slump from 135-5 to 147-8.
Brid 2nds then suffered a chastening 81-run home loss to Mulgrave on Monday.
Joe Hinchliffe's stunning 123 from 95 balls and Chris Knight's 80 saw an opening stand of 188 before Craig Thompson's 56no and Andy Raw's 27no helped them to a total of 300-3.
Brid tried their best thanks to skipper Andy Smith's unbeaten 64, 57no from Josh Mainprize and cameos from Greg Miller (32), Lewis Beasley (27) and Steven Pockley but they fell short on 219-6.
In Division One, leaders Folkton & Flixton 2nds slipped to a five-wicket loss at Great Habton.
Sam Burns took 3-36 as Flixton were all out for 141.
Ryan Boyes (37), Max Fraser (32) and 28 from Burns saw Habton home.
Thornton Dale won by seven runs in their game at home to Settrington.
Tim Hunt's 37 helped Dale to 132 all out, Stephen Beal bagging 3-13 and Tristan Midgley 3-18 for the visitors.
Beal then hit 48 and Jamie Rounthwaite 39 as Settrington looked set to clinch the win at 116-5, but Tom Snowdon's 3-15 helped Dale dismiss them for 125 with seven balls remaining.
Forge Valley won by 20 runs at Cayton 2nds.
Gary Gibson hit 60 and Sean Pinder 45 as Valley posted 175-9, Kieran Glave taking 4-37.
Lee Pettitt hit 51 and Jake Seastron 33 to keep Cayton in the match, but they ultimately fell short on 155-8.
Sewerby opener Dan Artley struck a sparkling unbeaten 114 in their eight-wicket win at home to Sherburn.
The visitors slumped to 56-6 only for a cracking 85no in 77 balls from number eight Daley Wharton to steer them to 175-8, Ian Jones taking 3-18.
Dan Artley then hammered 14 fours in his 97-ball knock to seal the win, Somerled Macdonald adding 29no.
Heslerton eased to an eight-wicket success at Wykeham.
Andrew Slaughter took 3-18 as Wykeham were pegged back to 139-8, Adam Eustace hitting 35 and Ezra Pashby 27.
Openers Ryan Wharton and Rob Middlewood hit 55 and 51 respectively to seal the win for Heslerton.