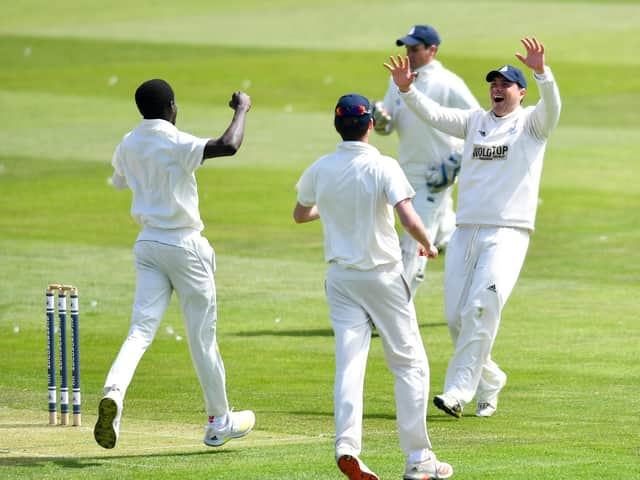 Scarborough celebrate a wicket against Clifton Alliance Photo by Will Palmer - www.will-palmer.co.uk
Only Clifton Alliance sit below Harrogate in the table, and they lost for the third game in a row after being bowled out by Scarborough for 129 at North Marine Road.
Scott Hopkinson tried to hold the visitors' innings together finishing unbeaten on 38, having come in at number four, but Linden Gray (3-24) part of a six-man attack every one of which contributed at least one wicket proved irresistible to the rest of the line-up.
Opener Oliver Stephenson (30no) lost his partner early on but runs from Breidyn Schaper (29) and a half-century from former skipper Elvidge (55no) eased the home side to a comfortable victory with 18 overs to spare.
On Saturday, Scarborough had lost out at Woodhouse Grange, an unbroken century stand between Chris Bilton (73no) and James Finch (39no) securing the five-wicket win.
Chris Suddaby (3-67) was the pick of the bowlers in the visitors total of 175-9 which owed much to an eighth wicket partnership of 83 from Elvidge (54) and Jack Holt (38) after their side had slumped to 92-7.
On Saturday, Will Norman's 53, a third half-century of the Premier Division season, and an unbeaten 61 from Harry Walmsley helped Folkton & Flixton reach 266-7at home to Whitkirk, the total also including 42 from Richard Malthouse.
The visitors put a spirited reply lead by Tom Webb with 73 but despite a further half-century from Jack Wood (53) the hosts came out on top by 47 runs, Connor Stephenson taking 3-47.
Skipper Nick Zakrzewski (99no) batted the entire Scarborough 2nds innings against Woodhouse Grange 2nds at North Marine Road, finishing unbeaten one short of a century in Division One East.
Stands of 82 alongside Thomas Precious (51) and 72 with Brad Milburn (42) laid the foundation for the home side's total of 272-9, Alex Burton with 3-67.
The visitors' reply was given the perfect start Ted Batty (66) and Robert Draper (48) combining for an opening partnership of 95. Mike Burdett then kept the pressure on the bowlers with 39.
Charlie Hopper (4-61) picked up the key wickets of both Baty and Burdett and Adam Hargreaves took three wickets as the hosts pressed hard for victory late on but were unable to dislodge the final pair.