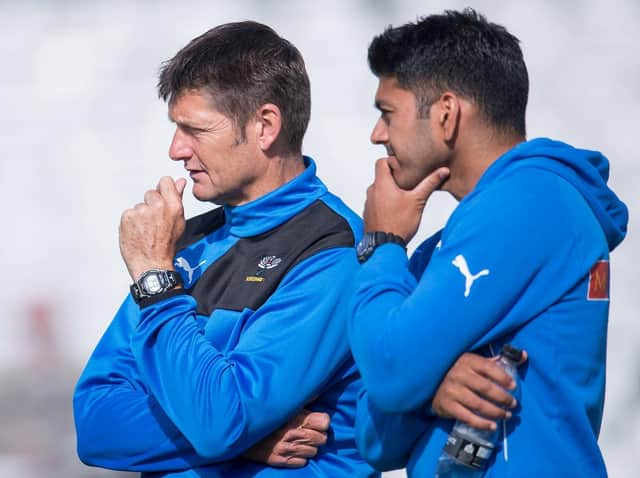 Martyn Moxon (left) has warned decisions may need to be driven by financial matters due to financial losses after the coronavirus pandemic
The club has already said that it faces a "significant seven-figure" loss, and director of cricket Martyn Moxon fears it is inevitable that some decisions will have to be made for financial rather than cricketing reasons.
"We may have to do things differently going forward," he said. "It depends what the hit is ultimately.
"This is the unknown at the moment, what it's going to mean financially.
"Some decisions are going to be led by finances rather than cricket potentially. That's a huge possibility.
"When we do know the full impact of all this then we'll make decisions on what we need now and what we'll need for the next five years.
"It's protecting the now but also looking at what kind of playing staff we'll need for the next five years as well.
There are 13 players out of contract at the end of the year: Ed Barnes, Ben Birkhead, Tim Bresnan, Dominic Leech, James Logan, Tom Loten, Steve Patterson, Adil Rashid, Jack Shutt, Josh Sullivan, Matthew Waite, Jared Warner and James Wharton.
Asked whether Yorkshire might need to trim their squad, Moxon said: "I don't know. Before the season started it kind of felt that we'd got quite a big staff and the reality was that, with the salary cap, that even if we had rate-of-inflation rises on this year's playing staff we'd be over the salary cap. That included overseas players.
"The cap is something like £2.5m for everything. It's not just basic salary, it's every cost involved with the playing staff.
"From a financial point of view, with the salary cap in mind, we would have probably had to cut a little bit anyway or not have overseas players. That would have been the choice.
"With the financial situation as it is, the likelihood is that we will have to make some cuts, but until we know the exact financial position then I'm not going to get drawn into how many or what exactly we need to do."
Moxon remains confident that there will be some county cricket towards the end of the summer.
"The hope is that as time progresses we'll need less of the current restrictions in place," he said.
"For the internationals it's going to be very tight in terms of security and testing and so on, but hopefully we'll need less protection, if you like, for county cricket as the summer wears on." "It's about trying to balance that out."