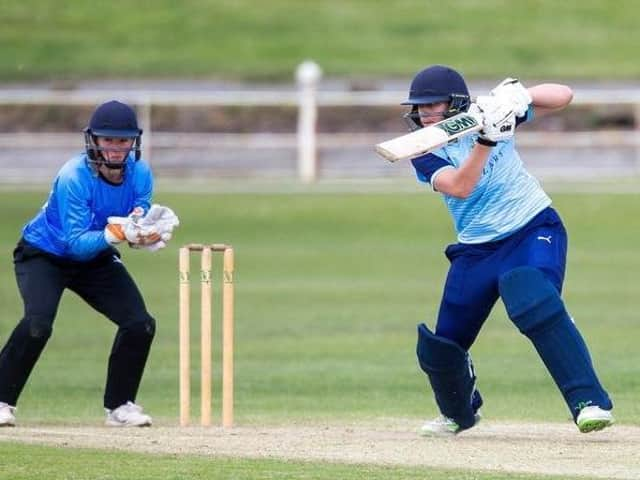 Northern Diamonds star Leah Dobson.
The YCB are hosting a month of activities to showcase the women's game throughout March and Dobson believes that it will be a big step in women's cricket.
She said: "It's really important to increase women's participation and I feel like it'll be a big step in the women's game.
"It's all about giving girls an opportunity to play cricket and experience how the game is."
Despite being busy with her own coaching commitments, Dobson, who grew up playing cricket for her local side Sherburn Cricket Club, is hoping to play a part in the growth of the women's game in the future.
She added: "I'd love to be able to help in the future to be honest. I'm a big believer in having idols and hopefully young girls will look up to some of the top players as inspiration.
"It's massive for the country as a whole and it'll give girls something to look forward to in the future."
Dobson will also be busy this summer as a women's coach at Scarborough Cricket Club.
The Yorkshire Cricket Board are celebrating International Women's Day throughout the whole of March by hosting a month of activities to showcase the women's game.
The month of March will be used to share stories across the women's game and encourage more women and girls to play, watch or attend cricket in the next 12 months.
Throughout March, the YCB will shine a light on the great work being done across the cricket network in Yorkshire, as well as provide fans and players alike with the opportunity to register their interest for future events.
The YCB is encouraging all cricket clubs and communities around the county to come together and support the movement to achieve a gender balanced sport.
Amna Rafiq, Yorkshire Cricket Board's Clubs and Community Development Manager (South/West) said: "This is a very exciting time for the women's game. The commitment and drive from the Board is very much focused on providing bigger and better opportunities.
"We are just coming out of a pandemic where the inequality gaps have increased and females have been less active than before. We want to ensure we challenge that by providing fun, safe, social and competitive offers to engage more women & girls in to the game.
"We also want to celebrate and recognise the females in the cricketing network to allow other women and girls to know that cricket is a game for them at every level."
The YCB will be launching a new County wide Women's Softball League, finals day to be held at Ampleforth College on August 22 and a county-wide Super 8's Hardball League as well as a Women's Softball Festivals throughout the County in collaboration with cricket clubs and community organisations.
The YCB will also be increasing the female workforce within clubs and communities, investing in clubs to make them welcoming and families friendly and staging girls only Dynamo cricket programmes up and down the county.
To sign up to these events, contact the North and East Yorkashire women's and girls' club development manager Rob Johnson on [email protected]