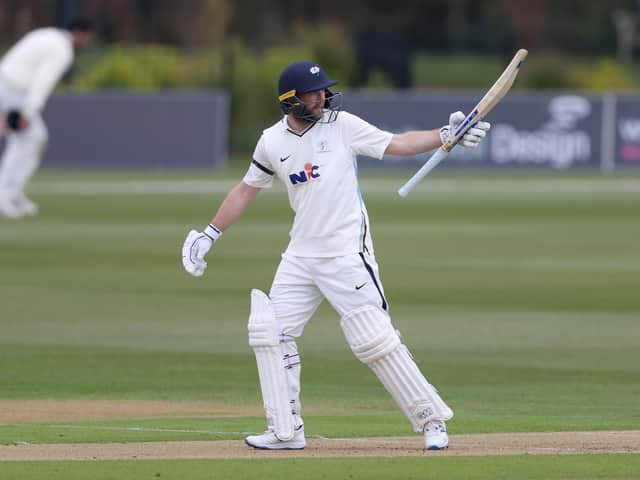 HIGH PRAISE: England captain Joe Root has heaped praise on Yorkshire opener Adam Lyth. Picture: Getty Images
Lyth has not played Test cricket since 2015 when he was jettisoned after seven appearances against New Zealand and Australia.
But he has started this season with two centuries and two fifties in the first two County Championship games, his 97 and 116 against Kent helping Yorkshire to their first victory of the season after their opening round draw versus Glamorgan.
Root, the England Test captain who scored 101 in the second innings of the match in Canterbury, sharing a stand of 119 with Lyth.
The England skipper said: "Adam is in cracking form. I think he's played lovely all season.
"Let's be honest, he saved us in the last game (against Glamorgan). In the first innings here (in Kent), he looked like he was batting on a different wicket to the rest of the guys.
"He was hitting the ball so fluently and timing the ball so nicely, and it's great to see him in that form.
"It's really encouraging for him. He's obviously worked extremely hard. I'm really pleased to see all that hard work pay off.
"He's backing up the big scores now, and that's what wins you Championships."
Although Root did not directly talk up Lyth's Test hopes, diplomatically confining his comments to county players in general when challenging for Test spots, he said: "All anyone can do in county cricket is score big, big runs and keep banging the door down.
"That's going to benefit England cricket in the long run, and it's really pleasing to see Adam go and start the season so well.
"I think the more guys that are putting their hands up, the more guys that are making big scores, are gains for the England team.
"You want that competition for places, you want people to be churning out big hundreds.
"If we're going to develop as a Test team and consistently go out and get 450 and big first innings runs, which is so vital in Test matches, guys need to be doing it in first-class cricket."