Prince Bedi and Adam Hargreaves shine as Scarborough CC 2nds earn first home win of season
Scarborough CC 2nds claimed their first York Cricket League Division 1 East home win of the season on Saturday against Sutton-on-Hull.
Monday, 28th June 2021, 7:15 pm
Updated
Monday, 28th June 2021, 8:20 pm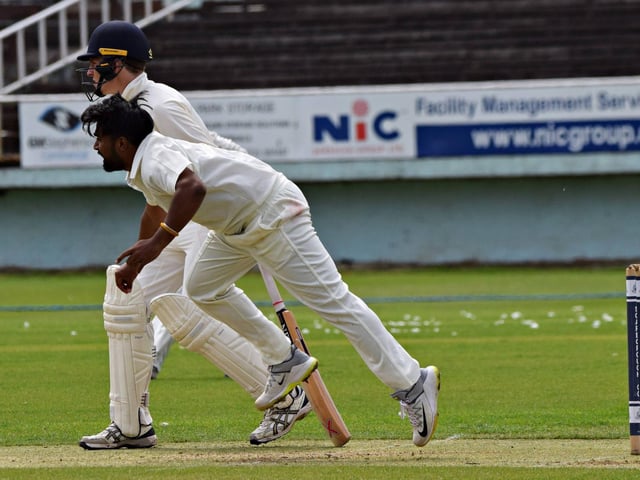 Scarborough 2nds v Sutton-on-Hull Photo by Simon Dobson
An unbeaten half-century from Prince Bedi (55no) overcame Sutton by six wickets, that coming after Rob Gainer (4-37) had taken all four wickets to leave them 63-4 chasing 114.
Opener Ben Graham top scored for the visitors with 30 but they lost their last seven wickets in the space of 29 runs to hand the hosts they advantage, Adam Hargreaves with five wickets for 20 and Adam Newington 3-9.
Folkton & Flixton sit second in the Premier Division table but lost a little more ground as they failed to bowl out Sheriff Hutton Bridge.
Scarborough 2nds v Sutton-on-Hull Photo by Simon Dobson
The home side dominated the early part of the match scoring 275-9 which began with 30 from opener Tom Norman and went on to include a stand of 83 between Will Hutchinson (64) and Harry Walmsley (54) which was followed by a further partnership of 65 between Walmsley and Elliot Hatton (43).
Nadeem Shefta (4-68) and Matthew Bird (3-52) tried to fightback for the visitors and picked up wickets late on but by then much of the damage had been done.
When Bridge came to bat they were able to rely on a composed innings from opener Harry Sutcliffe who stood firm finishing unbeaten on 92 as despite four wickets from Walmsley (4-59) they held on to be 198-8 at the close.
Clifton Alliance held on to beat Scarborough by eight runs despite a dramatic fightback from the visitors' lower order.
The home side made 217-6 thanks to 47 from opener Simon Williams, who would become one of three wickets for Harry Rinke (3-38), and an unbeaten 76 from 65 balls by Samuel Grant.
In reply the visitors found themselves 99-6 when Breidyn Schaper (34) was out, but a half-century from skipper Pat Roberts (50) and 36 from number nine Jack Holt brought their side back into the contest only for their hopes to be dashed when Craig Nicoll was brought on for the first time to bowl the penultimate over and took two wickets in the space of three balls to seal a memorable win.