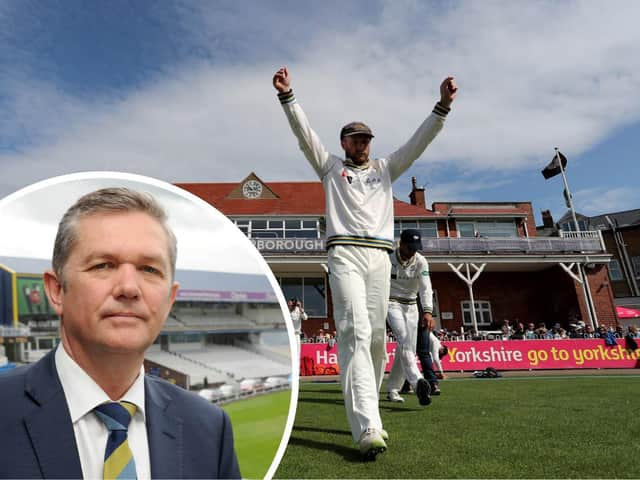 "Scarborough is very much the jewel in the crown for county cricket" insists Yorkshire CEO Mark Arthur (inset)
Scarborough and Whitby are to share in a pot of almost £40 million announced in the budget by chancellor Rishi Sunak for towns that are in danger of falling behind economically.
From the pot, Scarborough Cricket Club are set to receive up to £250,000 to undertake significant renovations to their North Marine Road ground.
The cash has been earmarked to renovate the West Stand, including installing new seating in place of the old benches, upgrade toilet facilities, improve security at the ground, undertake pitch improvements including installing two new hybrid wickets, and also build a new female changing room.
Yorkshire County Cricket Club's chief executive Mark Arthur (pictured) is delighted with the news that North Marine Road will receive the investment from the Towns Fund on the back of the club extending their deal with Scarborough Cricket Club to stage first class cricket on the coast for a further 10 years.
Arthur told The Scarborough News: "The Scarborough Town Deal is fantastic for the local area and we are thrilled to see that the cricket club will also benefit.
"Scarborough is very much the jewel in the crown for county cricket and is a venue loved by players, members and supporters alike.
"This investment will ensure that Yorkshire will be able to play in Scarborough for many years to come, but also make the venue more inclusive as women's and girls' cricket continues to grow in the county."
Scarborough Cricket Club CEO Rob Richtering insists the funding provides a huge boost to the club and the town.
"It's wonderful news that the town and the club will benefit from the funding," said Richtering.
"The hard work starts now putting plans into place and getting cracking with things.
"We'll be installing new seating in the West Stand, improving security and toilet facilities in the ground, installing a new changing room and also undertaking improvements to the pitch, which includes two new hybrid wickets.
"It's a huge boost for us and also for the wider economy of the town and the area."
Scarborough Council had applied for £25 million for each of Scarborough and Whitby from the Towns Fund but instead the two towns will share a pot of £37.3 million. Scarborough is to get £20.2m and Whitby £17.1m.
Scarborough Council leader, Cllr Steve Siddons said: "I am very, very happy. I'm delighted at the outcome and it is testament to the hard work put in by the two Towns Fund Boards, business leaders, community groups and all the officers."
"We will now sit down and look at the projects and prioritise them and see when we can get on with them."