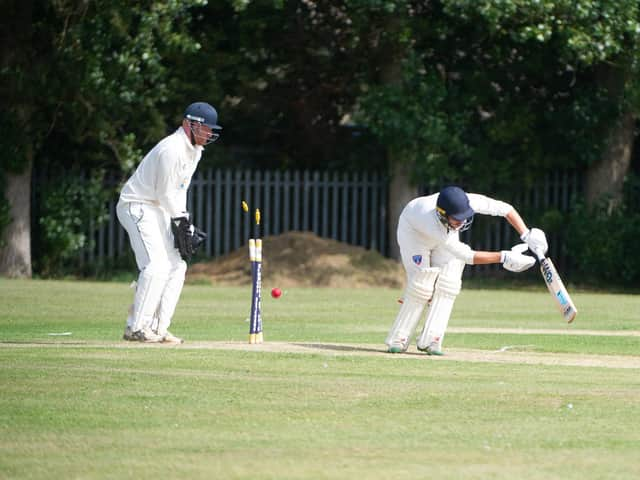 It is becoming more doubtful that Scarborough Beckett League champions Filey (above in action) will get the chance to defend their title this summer
It already appeared doubtful that any action would be seen this summer, with the Scarborough Beckett League committee eyeing up a July 4 start date and the Scarborough Evening Cricket League looking to get under way on June 23.
When asked on BBC One's Andrew Marr Show if there was any chance of amateur clubs being able to play sport outside this summer, Raab responded: "Very difficult because of the level and scale of interaction.
"I think the professional sport may be different because of the scale of testing that they would be able to introduce.
"We do want to look when it is safe and responsible at ways to allow more outdoors activities to take place, but again we have to have the evidence that it is a sure-footed step that does not allow coronavirus to get a grip back on the country."
Richard Wilkinson, the Yorkshire Cricket Board's head of region for the north, said: "This is such a difficult situation to predict an outcome from as things appear to be changing fairly rapidly.
"Is this cricket season in doubt, you'd have to say at this stage it is.
"Obviously we all hope we can get some cricket in this summer, but that will be dictated by the government and then the ECB.
"The physical and social benefits of cricket are there for all to see, but the safety of players and officials is our primary concern.
"I hope we get some cricket, I really do, but it's too early to say at this stage.
"I know a lot of leagues in our area are putting in contingency plans in case we are given the green light to get under way."
A statement from the Evening League stated they reluctantly accept there is an increasing chance that there won't be any action this year.
The statement said: "The Scarborough Evening Cricket League had set a tentative starting date Tuesday June 23, which was always an optimistic date in the knowledge that any potential decision making the league undertake could easily be halted by central government.
"It is without question we must follow all guidelines and any chance of play will actually be determined by the government.
"We have reluctantly accepted that there is an ever-increasing possibility of no recreational cricket this summer, although while there is always hope and our aim is still to get underway on June 23, health and safety is the only priority.
"We need to take social distancing on and off the field into account, along with in-play behavioural patterns in relation to celebrating a wicket or use of the cricket ball by all players and prospective officials.
"The professional game will suffer financially, but at grassroots level, the social and health benefits along with the development of youngsters through the ranks outweigh the financial aspects, although we acknowledge that a year without income may affect clubs."
Raab's comments were contradicted by Dr Brian McCloskey, a public health adviser to the World Health Organisation, who believes events such as parkruns and amateur sporting events will be the first to return following the lifting of the government restrictions currently still in place.
"The bigger the match, the bigger the competition, the more complicated those mitigating actions will have to be, and therefore the less likely it is that they can be done safely," McCloskey said.
"So an event that involves lots of travel across the country or between countries, much more complicated to see how that happens. A local event, community football, community running, much easier to see how that happens. Bigger events will be a challenge this summer.
"If you look at something like road running, if we go back to Park Runs, you could start those because they don't involve a lot of travel around the country, involve local communities, you can manage how it's done and in doing that you can learn how marshalling can help with social distancing in a run."