Scarborough Beckett League's top flight sides all set for long-awaited return
The 2021 CPH Scarborough Beckett League campaign gets under way this Saturday as the Premier Division sides return to action.
Friday, 23rd April 2021, 11:00 am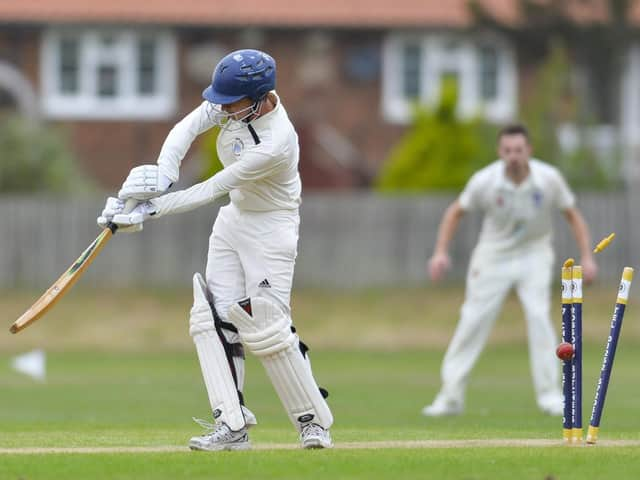 OPENING UP: The 2021 CPH Scarborough Beckett League season gets under way this weekend
For the first time since the 2019 season, local cricket action will return to the full compliment of teams and also back up to 45 and 40-over matches after a shortened version was played in 2020 due to the coronavirus pandemic.
The following Saturday will see the full compliment of divisions get back into action for the 2021 season.
The standout opening encounters in the Premier Division see holders and 2019 champions Filey take the trip to promoted side Bridlington 2nds and a derby encounter between Mulgrave and Staithes.
Elsewhere on April 24, Brompton host Cloughton, Ebberston play Seamer & Irton, Scalby take the trip to Nawton Grange and Staxton welcome Cayton.
On Saturday May 1 Filey hit the road to take on Brompton at their refurbished ground, Cayton are at home to Seamer & Irton, Cloughton play Mulgrave, Nawton Grange welcome Ebberston, Staithes travel to play Scalby at Carr Lane and Staxton host Bridlington 2nds.
All five divisions are scheduled to be in action on Saturday May 1.
In the Premier Division, Cayton are on home soil against Seamer, Cloughton host Mulgrave, Filey welcome Brompton, Staxton play Bridlington 2nds and Scalby get their campaign under way with a home match against Staithes.
There are some intriguing encounters in Division One, with relegated Heslerton hoping to start with a win at home to Settrington.
Settrington play Forge Valley at home, Sewerby play Folkton & Flixton 2nds, Sherburn host Great Habton and Wykeham play Cayton 2nds.
Ebberston are at home to Snainton on the opening day of the Division Two season, with Scalby 2nds taking the trip to Grosmont.
Elsewhere in the division, Mulgrave 2nds play Wykeham 2nds, Seamer 2nds are at home against Ganton and Wold Newton welcome Fylingdales.
In Division Three, Great Habton 2nds play Glaisdale, Malton & Old Malton 3rds are at home to Folkton & Flixton 3rds, Ravenscar host Nawton Grange and Scarborough Rugby Club take on Muston.
Forge Valley 2nds take on Scarborough 3rds in Division Four, with Thornton Dale 2nds at home to Bridlington 3rds.
Ganton 2nds host Flamborough, Wykeham 3rds welcome Brompton 2nds, Goathland play Malton & Old Malton 4ths and Scalby 3rds are at home against Cayton 3rds.
On Sunday May 2, Sherburn 2nds get their season under way when they play Ravenscar 2nds.